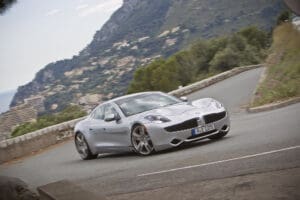 Porsche Panamera easily outpoints Karma in face-off of luxury sports cars
YONKERS, NY — The plug-in extended range electric Fisker Karma can go gas free for 38 miles on a full charge, but Consumer Reports' engineers found it full of flaws: Compared with other luxury sedans, the Karma has tight confines and limited visibility, and a badly-designed touch-screen system makes the dash controls an ergonomic disaster.
Consumer Reports bought their $107,850 Karma, the most expensive car they have ever tested. But it doesn't compare well with other luxury cars. "Although we found its ride, handling and braking performance sound and it has first-class interior materials, the Karma's problems outweighed the good," said Jake Fisher, Director, Consumer Reports Auto Test Center. "Despite the car's huge dimensions, it's very cramped inside. The overcomplicated controls are frustrating and it's hard to see out. When it's running, the gasoline engine has an unrefined roar. And the Karma's heavy weight affects agility and performance, as the Karma lacks the oomph you expect."
The Karma went head-to-head with another four-door, four-passenger luxury sports car with coupe-like styling—the  Porsche Panamera. CR's testers found it handily upholds the Porsche pedigree, offering an exciting blend of performance and practicality.
Also tested in Consumer Reports' November issue: The Ford Escape Titanium and Escape SE small SUVs, the Infiniti JX, and a face-off between the Acura ILX and Buick Verano compact upscale sedans. With its redesign, the Escape has jumped into the top tier of small SUVs, competing well with the Subaru Forester, Toyota RAV4, and Honda CR-V. With better gas mileage and a more spacious interior, the ILX edged out the Verano in CR's tests. A plush, quiet and roomy interior helps place the new JX among the serious players in the luxury SUV category.
Of the cars tested, only the ILX and the JX are recommended. The Escape is too new for CR to have enough reliability data, the Karma scored too low to be recommended, the Verano has been unreliable in its first year, and CR lacks enough reliability data to recommend the Panamera.
The full report and road test results are available on http://www.ConsumerReports.org on September 25th and in the November issue of Consumer Reports on newsstands October 2nd. Updated daily, ConsumerReports.org is the go-to Website for the latest auto reviews, product news, blogs on breaking news and car buying information. Check out CR's ongoing Twitter feed at @CRCars.
The Fisker Karma is similar in concept to the Chevrolet Volt, as both are extended-range electric vehicles. On a full charge, the Fisker delivers the equivalent of 66 mpg overall (1.96 miles per kilowatt-hour). Once the battery is depleted, a raspy GM-supplied turbocharged four-cylinder gasoline engine kicks in to generate electricity for longer trips. Fuel economy when running only on premium gasoline is an unimpressive 22 mpg.
Although Consumer Reports lacks reliability data for the Karma from its annual subscriber survey, their Karma test car proved to be particularly trouble-prone. It had a rough start in CR's testing when it suddenly became disabled on the organization's test track. Fisker replaced the battery pack in CR's test car, and later offered replacements for all 2012 Karmas. But CR's engineers have continued to encounter disconcerting intermittent glitches related to the gauges, warning lights, power windows and radio.
Although the Panamera, Porsche's first four-door car, was warily received by some sports-car purists when it was introduced in 2009, CR's testers found that the Panamera S they tested offers an exciting blend of performance and practicality. The Porsche Panamera delivers quick acceleration and excellent handling. The cabin is quiet and nicely finished. A hatchback and folding rear seats offer versatility.
Both the Acura ILX and Buick Verano offer a upscale interior and premium features without the typically high luxury-car sticker price and fuel demands. The ILX is based on the Honda Civic but is a considerably better car overall. Handling is responsive but falls short of being sporty, partly from vague steering feel. Notable road noise is an annoyance. Both the ILX and Verano have nicely-finished interiors, but  they each fall short of true luxury. At over $30,000 as tested, the ILX costs a lot for what you get.
The Buick Verano is based on the Chevrolet Cruze. Its library-quiet cabin is easily the car's high point. Like the Acura, handling is responsive but isn't sporty, with overly-light steering. The interior is snug, with a tight back seat, and the center dashboard is cluttered.
The new Ford Escape is solid, sophisticated, and fun to drive. It delivers agile handling and a taut yet impressively supple, composed ride. Its cabin is one of the quietest in its class. Both EcoBoost turbocharged four-cylinder engines are fuel-efficient. As in other Fords, the optional MyFord Touch controls prove frustrating.
The Infiniti JX fills a hole in Infiniti's line-up, finally giving the luxury maker a three-row family SUV. But it doesn't provide the typical sporty Infiniti driving experience. Vague, slow steering contributes to a lumbering feeling in corners. Only small amounts of wind, road and engine noise enter the hushed cabin. The spacious, well-finished, and user-friendly interior is a high point.
Consumer Reports is the world's largest independent product-testing organization. Using its more than 50 labs, auto test center, and survey research center, the nonprofit rates thousands of products and services annually. Founded in 1936, Consumer Reports has over 8 million subscribers to its magazine, website and other publications.  Its advocacy division, Consumers Union, works for health reform, food and product safety, financial reform, and other consumer issues in Washington, D.C., the states, and in the marketplace.
© Consumer Reports 2012. The material above is intended for legitimate news entities only; it may not be used for advertising or promotional purposes. Consumer Reports® is an expert, independent nonprofit organization whose mission is to work for a fair, just, and safe marketplace for all consumers and to empower consumers to protect themselves. We accept no advertising and pay for all the products we test. We are not beholden to any commercial interest. Our income is derived from the sale of Consumer Reports®, ConsumerReports.org® and our other publications and information products, services, fees, and noncommercial contributions and grants. Our Ratings and reports are intended solely for the use of our readers. Neither the Ratings nor the reports may be used in advertising or for any other commercial purpose without our permission. Consumer Reports will take all steps open to it to prevent commercial use of its materials, its name, or the name of Consumer Reports®.
Author: