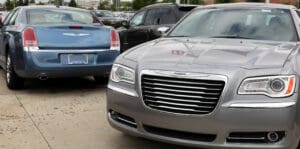 Buick LaCrosse with eAssist hybrid system achieves best-in-class 26 mpg
YONKERS, NY — The Chrysler 300 V6 earned an 83 test score in Consumer Reports ratings, which puts it near the top of its class, below the Hyundai Genesis.
When Consumer Reports tested the V8-powered 300C last year, engineers found it to be a huge improvement over the mediocre original. For 2012, the 300's V6 engine was paired with a smooth-shifting eight-speed automatic transmission, which improved drivability and helped the large sedan get a decent 22 mpg in CR's fuel-economy tests.
Rounding out Consumer Reports' foursome are the redesigned Hyundai Azera, which is more stylish and refined than its predecessor; the Buick LaCrosse equipped with GM's eAssist mild-hybrid system which is quiet, luxurious, and economical; and the freshened Ford Taurus which suffers from a relatively cramped interior, limited visibility, and complex controls.
"The 2011 redesign of the 300 put Chrysler's flagship back on the map in the large sedan category. Though the muscular V8-powered 300C delivers more oomph, most buyers will probably be quite happy with the V6 engine, which contributes to its refined character and helps it score near the top of its category," said David Champion, Sr. Director of Consumer Reports Automotive Test Center.
The full report and road test results on Consumer Reports' latest tests are available on www.ConsumerReports.org on August 22nd and in the October issue of Consumer Reports on newsstands September 4th. Updated daily, ConsumerReports.org is the go-to Website for the latest auto reviews, product news, blogs on breaking news and car buying information. Check out CR's ongoing Twitter feed at @CRCars.
None of the four sedans in the test group are recommended. CR doesn't have enough reliability data for the redesigned 300; the Azera and LaCrosse eAssist are too new; and the Taurus scored too low.
The Chrysler 300 is based on the same platform as the Dodge Charger, but the Chrysler scored higher in CR's testing. Handling is sound, and the steering is reasonably quick and appropriately weighted. At CR's test track, the 300 was steady and secure, posting a modest speed through CR's avoidance maneuver with no surprises. The cabin is hushed with very little road noise. The interior is nicely trimmed with padded surfaces and well-finished leather and the controls are relatively simple and easy to use.
The redesigned Hyundai Azera is now more competitive among large sedans and like many Hyundais, it provides a lot of features for the money. Handling has improved, but the Azera is still not as agile as some of its competitors. It also suffers from a stiff, unrefined ride, which detracts from the car's luxury intentions. In general, the ride is controlled and compliant, but it's marred by short, frequent motions on the highway that compromise comfort. The interior is spacious and nicely finished.
The Buick LaCrosse equipped with GM's eAssist is a sophisticated modern sedan. The interior is luxurious with high-quality materials. It delivers a steady ride and responsive handling, qualities that haven't usually been associated with the Buick nameplate. Although the LaCrosse's base drivetrain still uses a 2.4-liter four-cylinder engine, for 2012 it's supplemented by GM's eAssist light hybrid system, for a total of 182 hp. That improves acceleration and fuel economy, resulting in a category-leading 26 mpg. But several faults keep the LaCrosse from reaching the top of the class, including a narrow cockpit, a busy dashboard, obscured sight lines and trunk storage that's compromised by the large battery.
Updated for 2013, the Ford Taurus is quiet and rides smoothly. The quiet cabin is largely free from road and wind noise. But the car's interior is cramped for such a large car and it's not easy to see out. Plus most Tauruses come with the cumbersome MyFord Touch control system. That dragged the Taurus's overall test score down to just below CR's threshold for Recommendation and makes the Taurus the lowest-rated model in this category. Agility isn't a strong suit. Body lean is controlled in corners and the steering has decent response, but it's devoid of feedback. The 288-hp V6 can sound harsh when pushed.
Consumer Reports is the world's largest independent product-testing organization. Using its more than 50 labs, auto test center, and survey research center, the nonprofit rates thousands of products and services annually. Founded in 1936, Consumer Reports has over 8 million subscribers to its magazine, website and other publications.  Its advocacy division, Consumers Union, works for health reform, food and product safety, financial reform, and other consumer issues in Washington, D.C., the states, and in the marketplace.
© Consumer Reports 2012. The material above is intended for legitimate news entities only; it may not be used for advertising or promotional purposes. Consumer Reports® is an expert, independent nonprofit organization whose mission is to work for a fair, just, and safe marketplace for all consumers and to empower consumers to protect themselves. We accept no advertising and pay for all the products we test. We are not beholden to any commercial interest. Our income is derived from the sale of Consumer Reports®, ConsumerReports.org® and our other publications and information products, services, fees, and noncommercial contributions and grants. Our Ratings and reports are intended solely for the use of our readers. Neither the Ratings nor the reports may be used in advertising or for any other commercial purpose without our permission. Consumer Reports will take all steps open to it to prevent commercial use of its materials, its name, or the name of Consumer Reports®.
Author: