WASHINGTON – The House of Representatives this week passed legislation (unanimous voice vote) repealing a federal mandate that requires dealers to provide car buyers with a booklet comparing vehicle insurance repair costs upon request. The bill eliminates a potential $1,000 fine, which dealers currently face for not providing copies to their customers.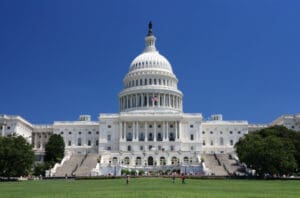 The Department of Transportation has described the pamphlet as "not useful" and "rarely used."
"The federal government has spent more than $1 million over the years to distribute largely irrelevant insurance information," said Bill Underriner, chairman of the National Automobile Dealers Association (NADA). "In my years of selling cars, not one customer has ever asked for this information at my dealership."
"We're looking for other ways to reduce regulatory burdens on dealers," Underriner added.
The booklet, Relative Collision Insurance Cost Information, has been printed and mailed with taxpayer dollars to all new-car dealerships since 1993. Currently, dealers are required to reproduce it at their expense. According to a recent NADA survey, 96 percent of dealers reported that none of their customers had ever asked to see it.
The bipartisan bill, H.R. 5859, introduced by Reps. Gregg Harper, R-Miss., and Bill Owens, D-N.Y., is strongly supported by NADA. The bill now proceeds to the Senate for consideration.
Underriner applauded the action by the House and commended Reps. Harper and Owens for their leadership, saying "this is one fewer mandate and potential fine that dealerships will have to face."
The NADA Story
The NADA story began in 1917 when 30 auto dealers traveled to the nation's capital to convince Congress not to impose a luxury tax on the automobile. They successfully argued that the automobile is a necessity of American life, not a luxury. From that experience was born the National Automobile Dealers Association. Today, NADA represents nearly 16,000 new-car and -truck dealers, with 32,500 franchises, both domestic and international. For more information, visit www.nada.org.
Author: