Used vehicles model years 2007-2011 overall depreciated -1.3% in June, a further drop from its -1.0% pace in May and -0.1% level in April. Domestic cars depreciated -1.5%; import cars were -1.3%; domestic trucks were -1.5%; and import trucks were -1.2%. Average depreciation is historically between -1% and -2% monthly. For a closer look at last week's results see Ricky's latest video.
Used pickup models had a strong month for depreciation, with Full-Size, Compact and Mid-Size pickups recording just -0.7% depreciation during the month. All three segments have also seen low depreciation over the last 12 months, with levels near -5%.
Compact Cars depreciated the most during June, dropping -2.6% of value. Vehicles in this segment include the Honda Civic, Chevrolet Cobalt, Toyota Corolla, Chevrolet Cruze, Ford Fiesta, Ford Focus and Nissan Leaf. Average segment values at the end of June were $8,765, a -18.9% change from the same time last year ($10,814).
The car segment with the best depreciation change during June was the Prestige Luxury Cars, falling just -0.9%. Cars in this segment include the BMW 7-Series, Audi A8, Mercedes-Benz CLS Class, Lexus GS 430, Mercedes-Benz S Class, and Jaguar XJ. Average segment values at the end of June were $32,862, a -17.1% change from the same time last year ($39,620).
Compact CUVs and Mid-Size SUVs showed the most depreciation across truck segments, both falling -2.2% on the month. Compact CUVs include Honda CR-V, Ford Escape and Jeep Liberty. Average segment values at the end of June were $13,140, a -14.1% drop from same time last year ($15,289). Mid-Size SUVs include the Toyota 4-Runner, GMC Envoy, and Ford Explorer. Average segment values were $16,773, a -10.9% decline from same time year ago levels ($18,823).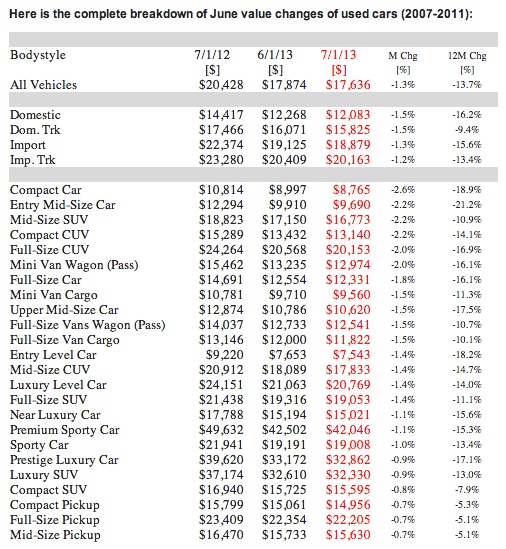 About Black Book
In business since 1955, Black Book is a provider of accurate pricing insight, mobile solutions and online vehicle trade-in valuation for the automotive industry. The company offers the industry's most accurate vehicle valuation insight to dealers, lenders, remarketers and government agencies. Black Book also provides automotive shoppers with instant and accurate credit-score estimates and trade-in appraisals, which provide the highest quality sales leads for dealers. Click here to view Ricky Beggs' weekly video series offering the latest insight in the auto market http://ow.ly/aHFD6. Follow Ricky on Twitter @BeggsBlackBook (https://twitter.com/beggsblackbook) and on Facebook http://www.facebook.com/blackbookUSA.
Author: