PLYMOUTH, Mich. — Community Financial Credit Union announced today that 2011 was a record year for growth in member satisfaction ratings and number of members.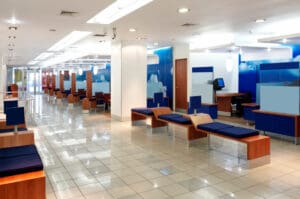 The credit union, with branches in Plymouth, Canton, Northville, Novi, Gaylord, Hillman and Lewiston, saw a record near 10-percent increase in membership in 2011. It also saw its highest all-time member satisfaction rating.  Among the credit union members surveyed by Raddon Financial Group, Community Financial ranked in the 97th percentile for members who said they were "very satisfied."  Overall, over 96-percent of Community Financial members indicated they are either "satisfied" or "very satisfied," the highest ranking available on the survey.
"We are constantly striving to better serve our members and better serve the communities in which we operate," said Community Financial Chief Financial Officer Meg Pankow.  "We are thrilled so many of our members view Community Financial as a great place to bank."
Across the country, more consumers rank credit unions higher than banks in customer satisfaction.  According to the 2011 American Customer Satisfaction Index (ACSI), released by the University of Michigan, credit unions set an all-time record of 87 (out of 100), the highest score ever achieved by the 47 industries ranked.  Credit Unions also increased their lead over banks, which had a score of 75.
Community Financial is a cooperative credit union offering a full range of financial services to members, specializing in auto and home loans and small business support.  It is also a loyal member of the community, supporting non-profit organizations throughout the year and financial education through several student-run credit union programs at local schools.
"Our members and our communities are our backbone," Pankow said.  "We will continue to work each and every day to support them."
To stay connected with Community Financial and keep up-to-date on the latest financial news and information as well as Community Financial's community involvement, please "like" us on Facebook at www.Facebook.com/CommunityFinancial or follow us on Twitter at www.twitter.com/CFCreditUnion.
About Community Financial Credit Union
Headquartered in Plymouth, Michigan, membership in Community Financial Credit Union is open to anyone who lives, works, worships, volunteers, or attends school in the Michigan cities, townships or counties of Plymouth, Canton, Northville, Novi,Alpena, Otsego and Montmorency.  With more than 48,000 members, Community Financial provides financial services to members at eight branch locations and through a variety of automated and online services.  For more information, visitwww.cfcu.org or call (877) 937-2328.
Author: