Tom Mohr, co-founder, president and CEO of ResponseLogix, is sharing his expertise with automotive dealers and managers on how to become a 10X dealership.
According to Tom Mohr, there are 10 key building blocks to 10X Internet success. They are:
· Competitive used car pricing
· Effective used car merchandising
· Competitive new car pricing
· Optimized Internet structure
· Optimized lead management process
· Dealer website SEO optimized
· Optimal third party lead buying
· Social media optimized
· Promotions optimized
· A continuous improvement discipline
Each key building block entails a series of disciplines that, if mastered, provides an important stepping stone toward Internet success. Lead volume plus effective lead management equal sales.
Maximum lead volume: Competitive pricing, aggressive merchandising, and maximizing visibility (dealer website, third party lead providers, social media, promotions) are the keys to driving lead volume. Leverage these critical success factors intelligently.
Effective lead management: When a lead arrives at your dealership, it is the "Moment of Truth". That lead has gone to two or three other dealerships; it's up to you to win the battle for the customer's trust. Effective structure and Internet lead response process are the keys to ensuring leads turn into sales.
Continuous improvement: In every building block on the way to success, the opportunities for continuous improvement are legion. As you increasingly master the ten key building blocks to 10X Internet success, you will drive more total profit. As you do, you can invest in more leads and more sales reps, creating a virtuous cycle of growth. So the very best dealers are never satisfied—they always stretch to higher levels of performance via a "continuous improvement discipline". The dealer who commits himself to mastery in all 10 building blocks of Internet success is well on his way to becoming a "10X Dealership".
What will you learn and what action items will you take back to the dealership?
1. An understanding of the key building blocks of "10X" internet success.
2. How to sequence these building blocks in the right order to ensure sustainable growth.
3. How to manage the end-to-end lead process so as to optimize the customer experience and increase the likelihood of a sale.
4. How to build lead volume over time to drive continuous profit growth

Tom Mohr is co-founder, president and CEO of ResponseLogix, a venture-backed digital marketing company helping auto dealers improve close rates on Internet leads. Prior to ResponseLogix, Mohr was president of Knight Ridder Digital, where he was on the board of Cars.com. Over the past 26 years, Mohr has held a series of senior roles, including Knight Ridder corporate director for classifieds, where he oversaw $800M in revenue responsibility including $200M in automotive advertising revenue. He has an MBA from the University of California at Berkeley, and a BA in political science from Queen's University in Canada.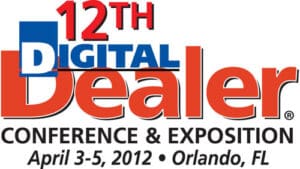 A 12th Digital Dealer® Conference & Exposition Featured Speaker: Tom Mohr presents:  Becoming a 10x Dealership: It takes exposure, best practice follow-up and competitive pricing to drive maximum sales and profit.
We're building out the agenda, selecting speakers and topics for more than 90 sessions that are laser-focused on all things digital.
www.DigitalDealerConference.com
[post_adspot]
Author: