Businesses of all sizes are moving to the cloud, but what does this really mean? Andy Lapin, chief architect for Kelley Blue Book's top-rated website www.kbb.com, will provide you with an inside look at how dealerships can utilize cloud computing and create more efficient business processes.
Dealers and managers are faced with enormous pressure to increase sales, and with the addition of cloud technology, they won't be burdened with the added stress of computers crashing and losing valuable customer data. Andy will share with you how cloud computing allows dealerships to manage and support their business, meet user demand and control costs. You will walk away with information on how your dealership can manage email, vehicle marketing, inventory, customer management systems, service reminders and more with cloud computing technology.
Furthermore, by utilizing the cloud, dealers and managers can develop insights into their customers and capture data to properly stock inventory, increase sales and generate repeat business. Andy Lapin is sharing his expertise with you.
What will you learn and what action items will you take back to the dealership?
1. Learn how cloud computing can be utilized at dealerships to create operating efficiencies and increase sales opportunities.
2. Learn how cloud computing will effectively and efficiently help daily business processes: email, inventory, customer management system and more.
3. Learn how to gain insights from customer data within the cloud, in order to properly stock inventory.
Andy Lapin is chief architect for Kelley Blue Book's kbb.com. Lapin is charged with overseeing all product architecture for the company. In this role, Lapin takes the responsibility of leading technical research and development, as well as managing Kelley Blue Book's architecture team, and vendor and partner relationships. Lapin also creates company development standards, and specializes in building and creating large scale web applications using emerging technology. Lapin is a leader and innovator of cloud computing at Kelley Blue Book. Prior to his position as chief architect, Lapin was a solutions architect, updating kbb.com platform technology.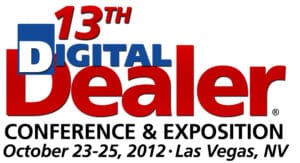 A 13th Digital Dealer® Conference & Exposition Featured Speaker: Andy Lapin presents:  Move Away from Managing Software and Back to Selling Cars: A Perspective on Cloud Computing: How dealerships can integrate cloud computing and improve efficiencies.
We're building out the agenda, selecting speakers and topics for more than 100 sessions that are laser-focused on all things digital.
The Digital Dealer Conference & Exposition is the premier educational conference and expo dedicated to Internet and technology solutions for automotive professionals. Digital Dealer events deliver the largest array of speakers, peer to peer opportunities, and exhibit hall offerings – all carefully designed to impart cutting edge business strategies. With an audience of the industry's most progressive dealers and managers and the most innovative conference format, Digital Dealer provides the ultimate learning and networking environment.  For more information, visit:  www.DigitalDealerConference.com.
Author: