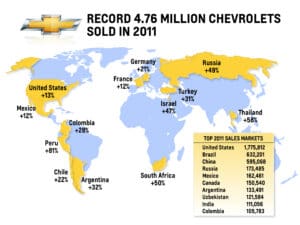 DETROIT – Chevrolet sold 4.76 million vehicles around the world in 2011, setting a global sales record and driving General Motors Co. (NYSE: GM) global sales to more than 9 million vehicles, a 7.6 percent gain compared with 2010.
GM gained four-tenths of a point of market share to 11.9 percent of the global vehicle industry. Sales were up in all four reporting regions – North America, South America, Europe and International Operations – as GM sold a total of 9,025,942 vehicles compared with 8,385,484 in 2010.
The United States led the way for Chevrolet with total vehicle sales of 1,775,812, up more than 13 percent from 2010. China posted record sales of 595,068, up 9.5 percent from the previous year. Other markets that posted significant year-over-year increases include Vietnam (79 percent), Russia (49 percent), Turkey (30 percent) and Germany (21 percent).
" Chevrolet's impressive growth in both established and developing markets is the result of a strong new product lineup that meets the diverse needs of consumers around the world," said GM Chairman and CEO Dan Akerson. "In addition to Chevrolet's record-setting sales, the entire lineup of GM vehicles is meeting customer needs for fuel-efficient cars and work vehicles as well as unmatched luxury."
Chevrolet is building its global presence by delivering cars like the Cruze, Sonic (Aveo) and Spark, the all-new midsize global Malibu, and crossovers and trucks like the Orlando and Colorado that are designed for the varied driving conditions and customer preferences around the world.
The Chevrolet Cruze compact sedan led the brand with global sales of more than 670,000 in 2011, making it the best-selling Chevrolet nameplate around the world with more than 1.13 million sold since its launch in 2009. In the United States, Chevrolet was the best selling passenger car brand in 2011, thanks in large part to the success of the Cruze.
More than 15 markets experienced record Chevrolet sales in 2011 with the largest year-over-year increases in Peru (81 percent), Vietnam (79 percent), Thailand (57 percent), South Africa (50 percent) and Israel (46 percent). The top 10 Chevrolet sales markets in 2011 were:
| | |
| --- | --- |
| Market | Total 2011 Sales |
| United States | 1,775,812 |
| Brazil | 632,201 |
| China | 595,068 |
| Russia | 173,485 |
| Mexico | 162,461 |
| Canada | 150,540 |
| Argentina | 133,491 |
| Uzbekistan | 121,584 |
| India | 111,056 |
| Colombia | 105,783 |
"Without doubt the new Chevrolet portfolio has been a catalyst for our success around the world," said Tim Lee, president of GM International Operations. "The launch of the Chevrolet brand in South Korea along with tremendous growth in China and across the rest of our international operations is proof that Chevrolet is becoming a first choice for customers around the globe."
As Chevrolet enters its second century, it continues to become a more global brand, with more than 60 percent of its sales outside the U.S. market.
"In 2012, we will continue to expand our range with even more great vehicles as we pursue further growth in our key markets," Lee said.
On a corporate basis, GM's two largest markets in 2011 were China, where GM and its joint venture partners increased sales 8.3 percent year over year to 2,547,203 vehicles, and the United States, where GM sold 2,503,820 vehicles, up 13.0 percent compared with 2010. GM is the market leader in both countries.
General Motors Global Sales Summary
Units

2011

Units

2010

% Change
% of Industry

2011

% of Industry

2010

Point Change
North America
2,924,140
2,625,411
11.4
18.4
18.2
0.2
Europe
1,735,335
1,662,963
4.4
8.8
8.8
0.0
South America
1,064,631
1,024,960
3.9
18.8
19.9
(1.1)
International Operations
3,301,836
3,072,150
7.5
9.5
8.9
0.6
Total Global
9,025,942
8,385,484
7.6
11.9
11.5
0.4
GM North America = United States, Canada, Mexico and other North American markets
GM in Europe = Western, Central and Eastern Europe plus Russia
GM International Operations = Asia-Pacific, North Africa, Sub-Saharan Africa and the Middle East
Note: Iran, North Korea, Syria and Sudan are excluded from sales volume and market share calculations
About Chevrolet
Founded in 1911 in Detroit, Chevrolet is now one of the world's largest car brands, doing business in more than 140 countries and selling more than 4 million cars and trucks a year. Chevrolet provides customers with fuel-efficient vehicles that feature spirited performance, expressive design, and high quality. More information on Chevrolet models can be found at www.chevrolet.com.
About General Motors
General Motors Co. (NYSE:GM, TSX: GMM) and its partners produce vehicles in 30 countries, and the company has leadership positions in the world's largest and fastest-growing automotive markets. GM's brands include Chevrolet and Cadillac, as well as Baojun, Buick, GMC, Holden, Isuzu, Jiefang, Opel, Vauxhall and Wuling. More information on the company and its subsidiaries, including OnStar, a global leader in vehicle safety, security and information services, can be found at http://www.gm.com.
Author: