Sean Wolfington, Chairman and CEO of The Wolfington Companies, is sharing his expertise with automotive dealers and managers on the best practices of the most successful dealers.   He'll describe how these dealers integrate multiple marketing mediums to attract, sell, service and retain more customers for less cost. You will hear about the best practices of top dealers like Penske, Hendrick, Brickell, Paragon and others.
You'll learn tips, tricks and proven strategies to help you improve your profitability by integrating multiple marketing mediums, including:  research, traditional, digital, targeted, publicity, reputation management, niche, merchandising and sales and service retention.
You will learn how to simultaneously promote all your profit centers: new, used, finance, service and parts. You will leave with the knowledge and insight to establish your own best practices to live by to help you gain market share, while also generating more revenue per customer. Sean Wolfington is sharing his expertise with you.
What will you learn and what action items will you take back to the dealership?
1. Learn how to improve profitability using innovative digital, social, mobile and traditional marketing strategies integrated across multiple mediums for less cost than mass marketing.
2. Learn how results-oriented marketing strategies can increase your market share and profitability by building your brand, attracting more high-quality opportunities, improving sales and service revenues, and increasing your customer satisfaction and loyalty.
3. Learn about a step-by-step marketing plan to help you find, sell and keep more customers profitably while increasing volume and profits, and improving CSI.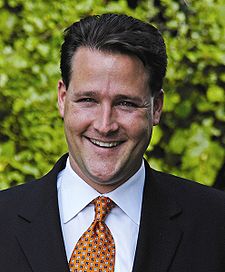 Sean Wolfington, chairman and CEO of The Wolfington Companies, is an entrepreneur with businesses in the marketing, technology, real estate and film industries. Wolfington founded some of the leading digital marketing and consulting companies in the automotive industry – Automark and Cyber Car (bought by Reynolds and Reynolds in 2001) and BZ Results (bought by ADP in 2006). By the age of 40, Wolfington sold three of the leading digital marketing companies in the automotive industry which had a combined enterprise value of $500,000,000. Wolfington currently owns interests in a group of companies in the automotive, technology and entertainment industries. Wolfington's companies in the automotive industry include Tier 10 Marketing, Level 5 Advertising, Team Velocity Marketing, the Automotive Advertising Network, Car-mercial, Call Revu, the American Dream Network, DealerAppVantage, Intellacar, GroupCars.com and BusinessRater.com.
A 13th Digital Dealer® Conference & Exposition Featured Speaker: Sean Wolfington presents:  Case Studies: How Dealers Integrate Traditional, Digital, Social and Mobile Marketing to Increase Sales and Service Profitability.
We're building out the agenda, selecting speakers and topics for more than 100 sessions that are laser-focused on all things digital.
The Digital Dealer Conference & Exposition is the premier educational conference and expo dedicated to Internet and technology solutions for automotive professionals. Digital Dealer events deliver the largest array of speakers, peer to peer opportunities, and exhibit hall offerings – all carefully designed to impart cutting edge business strategies. With an audience of the industry's most progressive dealers and managers and the most innovative conference format, Digital Dealer provides the ultimate learning and networking environment.  For more information, visit:  www.DigitalDealerConference.com
Author: