Joe Castle, a second generation car dealer from the Chicago area, purchased two under-performing dealerships in 2008. The stores were selling less than 50 total cars per month and were losing a combined total of $96,000 a month. In three months, Castle managed to turn the stores around so they are now selling 150 vehicles and generating $100,000 per month in gross profits. Not only that, but from 2008 to 2014, Castle increased sales at these dealerships to more than 300 units a month.
Castle's dealerships compete with eight stores within a 10-mile radius — to put that in perspective, there are fewer Walgreens stores than Chevy dealerships within those ten miles. There are, in fact, 87 Chevy dealerships within a one-hour drive of his location, Villa Park, IL. Despite the heavy competition, and negative cash flow, Castle's Chevy store currently is a member of GM's Top 100 dealerships nationwide — out of a field of more than 3,000 stores. The turnaround at Castle's Buick GMC dealership was equally impressive, pulling into the Top 15 nationwide. In 2014, Castle Auto Group was given an award by GM for having the highest customer retention for sales to service for the North Central Region.
This information begs the question, how has Castle and his team managed to take these dealerships from the edge of total failure to the top of GM's national rankings? Castle and his team reinvented his sales and marketing strategy from the ground up. Instead of relying on old methods that weren't working, Castle did what many thought was impossible. He eliminated traditional media and commissioned sales people and created a 100% targeted media strategy that leveraged social media to attract and convert a new generation of customers.
THE RIGHT CUSTOMERS
"Being successful in the future means learning from our historical successes as well as our previous failures," Castle said. "In other words, starting over did not mean starting from scratch. When I took over, we were a low-volume group, but we still had an established customer base. I knew there were lessons to be learned, so we cleaned up our database and jumped in with both feet." The first step was to look at their geographic area and make plans for their specific situation. "We took a close look at every customer who had ever purchased or serviced at one of our stores and compared that with the historical performance of every ZIP code in our market area," Castle said. "The next thing we did was to identify the ZIP codes within our market area that had the highest statistical probability of generating longterm, repeat customers. This process removed all the guess work because it allowed us to clearly understand which ZIP codes generate the most revenue with the lowest cost per sale."
CONNECTING "THE VIRTUAL" WITH "THE PHYSICAL"
"Identifying our 'perfect market' was a big deal for us, but we still had to figure out how to reach our customers more effectively," Castle said. "All the traditional media sources we were using — TV, newspaper, radio, etc. — were all expensive. Although they covered many of the areas we wanted to target, they also forced us to pay for a lot of areas we didn't. We had to be more effective and we had to cut costs, so we started looking hard at digital mediums."
Castle said that this point where the "ah-ha" moment occurred. "We all know that customers now shop online, but we were completely ignoring the reality that every online shopper goes home to a physical address — the "virtual" and the "physical" are connected — and we use that to our advantage."
While customers shop online, the decisions they make — where they want to buy and service their cars, — are strongly influenced by where they live and work. "Connecting the dots completely changed the way we were thinking and led us to our current three-part strategy," Castle said. "First, we target based on where customers live and where they are most likely to spend their money. Then, we connect with them using targeted and digital media. Finally, we treat our in-dealership sales and service processes as an extension of the overall customer experience."
In order to turn dealerships that were dying into profitable businesses, Castle knew that drastic action was necessary — the "old ways" wouldn't cut it. "Making this change was one of the scariest decisions of my life, but I did it," he said. "We eliminated all of our traditional advertising and focused 100 percent of our efforts on targeted media."

DIALING IN DIGITAL MEDIA
Although Castle's overall strategy uses many targeted media channels, his use of social media is especially impressive. His dealerships' innovative approach has cultivated an amazing 46,000 Facebook fans, and his targeted social media advertising is so effective that Facebook actually outperforms Google for generating traffic to his dealership Website — which gets over 10,000 unique visitors a month. "It's simple," Castle said. "We have a three-part strategy that is designed to target, connect and convert."
Target: "We do four types of Facebook campaigns every month," Castle said. "Two for sales and two for service. For each, we do one branding campaign that promotes the virtues of doing business at Castle Auto Group and one set of targeted offers based on what we are promoting that month.
Castle said he found Facebook advertising has been extremely effective for his dealerships for two reasons. First, it is extremely targeted. It allows the dealerships to target by specific criteria, such as income level, gender and personal interests while also allowing them to focus on their targeted ZIP codes — those that have the highest income potential with the lowest cost per sale. The other reason Castle found is that Facebook advertising is exceptionally responsive. His team can start getting feedback from their campaigns within minutes. "The dashboard we use compiles all of the interactions that customers are having with our ads and puts them in one place," Castle said. "This allows us to make edits to campaigns that are not performing up to our standards and reallocate funds to add fuel to the things that are performing especially well."
Connect: "We use our Facebook page to maintain our connection with our current customers and to reinforce our social media branding campaigns," Castle said. "The dashboard that our social media agency gives us allows us to see what customers are talking about online. We use this information to tailor the content that gets posted to our site. This helps us stay relevant and create a personal connection between new customers and our dealership."
Convert: "We use all of our social media tools to drive traffic back to our dealership websites," Castle said. "The results have been amazing. Facebook is our No. 1 source of Website traffic. Like many dealerships, we get a lot of traffic from Google, but Facebook has consistently generated more traffic for well over a year."
"These dealerships are living proof that social media can help a dealership not only find a customer base, but keep that base engaged and coming back in the future," said Sean Seltzer, the CEO of SOCIALDEALER.com, the company that helped Castle shape his dealerships' marketing strategies. "Castle Auto Group proves that new ways of thinking and marketing can provide big rewards."
PULLING IT ALL TOGETHER
To maximize conversion on his new 100 percent digital marketing strategy, Castle completely reinvented his sales and service engagement processes, which included:
Consistent branding across all mediums, making sure that, from start to finish, everything customers see online (display ads, Facebook ads, website images, etc.) must match what they see when they enter the dealership.
Creating a "Super BDC" with multiple departments, which include phone, Internet and a dedicated social media team.
Changing the sales process so that customers can pre-negotiate key elements of their deals before ever setting foot in the dealership.
Replacing commissioned Salespersons with "customer care advocates," who are responsible for demoing the car, answering any questions the customer may have and doing limited negotiation.
It wasn't easy turning struggling dealerships into national showcases of success, but Castle knew that, to change what his dealerships were getting, he had to change what they were doing. Castle knows that a key to success is not only bringing new customers into the dealerships, but in retaining his existing customer base. This process begins with the opportunities he generates every month, and many of these come from social media. Having all data in one dashboard and having a full service social media agency that does all the work makes his vision possible. "Without social media and the technology to take full advantage of it, our turnaround wouldn't have been possible," Castle said. "By connecting with customers where they spend their time online, we've found that we can become part of their lives."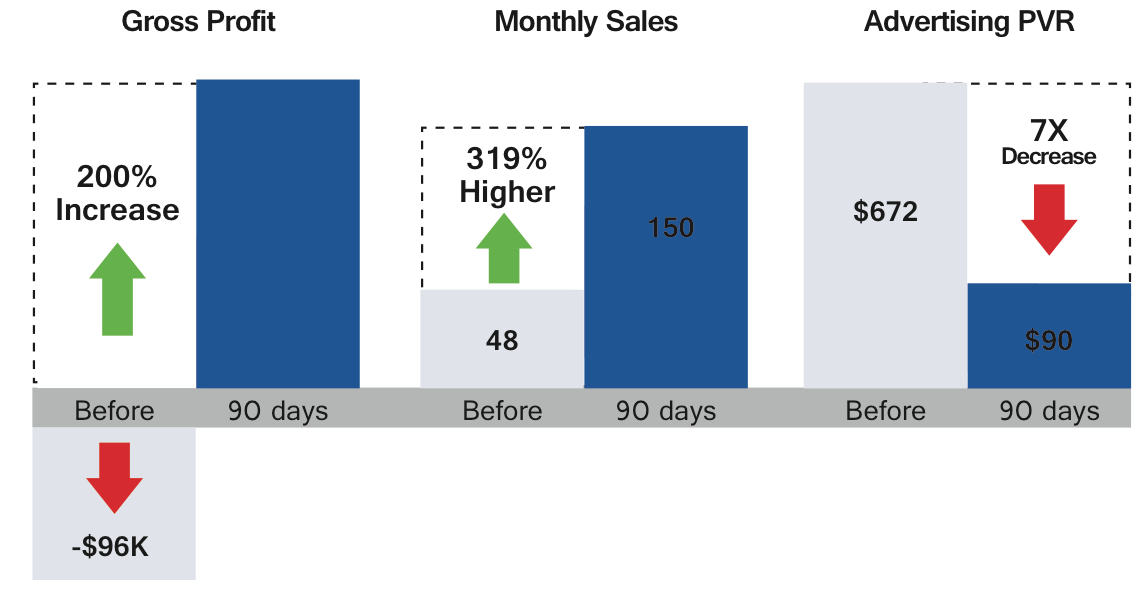 Author: