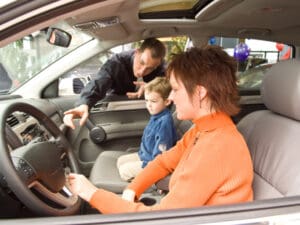 BURLINGAME, Calif. — In the face of an ever increasing number of disgruntled buyers, CarWoo! presents its Bill of Rights for car buyers.  This Car Buyer Bill of Rights, based on the buyer's experience in the CarWoo! MarketPlace declares the rights which should be available to all car buyers.  Buyer's horror stories about their car buying experiences caused CarWoo! to deliver this Bill Of Rights.
"The car buying experience has been dreaded for far too long," says Tommy McClung, CEO of CarWoo!.  "When the Millenials prefer a visit to the dentist over going to a dealership, you know that there is a systemic problem.  The online CarWoo! MarketPlace helps deliver the rights which should have been available to buyers all along."
Among the eight rights included in CarWoo!'s Car Buyer Bill of Rights are:
The right to privacy through anonymity so you avoid unwanted calls, emails and aggressive dealers.
The right to convenience and efficiency so that you can buy a car on your own schedule and as quickly as you choose.
The right to competitive market prices that you can confident in so that you know you are getting a great price.
The right to professional and respectful interactions with fair and honest dealers so that you have an enjoyable and productive experience.
The right to honest, comprehensive prices so that are for real cars so that you know when you get to the dealership your car will be there at the price you agreed to.
The complete text of the CarWoo! Car Buyer Bill of Rights can be found online at carwoo.com/bill_of_rights with additional information on CarWoo!'s blog, The CarWoo! Chronicle.
"Buyers do have rights when it comes to buying a car," continues McClung.  "Most fundamentally, they have the right to a great car buying experience."
CarWoo! will be publishing stories of buyers who have great or less than great experiences buying their cars.  Buyers are encouraged to send their stories to buyers-rights@carwoo.com.
About CarWoo!
CarWoo!, as seen on The Today Show, CNN Money and other leading national media outlets, is the only true online marketplace for car buyers and sellers.  In the CarWoo! marketplace buyers remain anonymous, get great market prices, save a ton of time and dealers are ensured buyers who purchase within 3.5 days 80% of the time.  It was founded in 2008 by serial entrepreneurs, Tommy McClung, Erik Landerholm and Michael Young. With early funding by Y Combinator, CarWoo! is based in Burlingame, CA and is now funded by Blumberg Capital, Comcast Interactive Capital and Interwest Partners. Find us on Facebook at http://www.facebook.com/carwoo and on Twitter at twitter.com/carwoo.
Author: