Every sales operation is always looking for ways to improve their sales rates. But it's hard to do without actionable data in hand. We will share actual, exclusive 2012 CarsDirect customer survey data on why customers aren't buying. This data has not yet been revealed publicly and aggregates thousands of survey responses from customers who submitted leads on CarsDirect.com to dealers and to CarsDirect's in-house auto brokerage business. We will explore the latest buying trends, reasons customers aren't buying, and how dealers can change their current processes to immediately improve their closing ratios. We'll also explore lead sources and the content consumers see online prior to submitting their leads, and how to use this content to prepare to meet customer expectations and sell more cars. Todd Dearborn is sharing his expertise with you.
What will you learn and what action items will you take back to the dealership?
1. Learn the top reasons customers aren't buying from the dealer that originally received their lead.
2. Obtain a better understanding of lead sources, the types of content customers are consuming before submitting leads, and how to use this information to better meet each customer's differing needs.
3. Learn how to specifically improve current sales processes to better meet customer expectations and eliminate inefficiencies in lead management.
Todd Dearborn is vice president of sales at CarsDirect.  Dearborn has more than 14 years of online sales experience with a unique understanding of both the retail and wholesale sides of the automotive industry and how they relate to the Internet. In addition, he possesses more than 19 years of experience in the automotive industry, most recently having worked for ADESA in the online division OpenLane. He has worked in various executive-level roles within the automotive industry, including auto rental with Enterprise, online retail sales, lead generation, and the online wholesale industry, as well as advertising/media sales.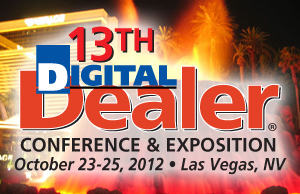 A 13th Digital Dealer® Conference & Exposition Featured Speaker: Todd Dearborn presents:  Why You're Not Closing More Sales — Data, analysis and recommendations direct from customers on why they didn't buy from you.
We're building out the agenda, selecting speakers and topics for more than 100 sessions that are laser-focused on all things digital.
The Digital Dealer Conference & Exposition is the premier educational conference and expo dedicated to Internet and technology solutions for automotive professionals. Digital Dealer events deliver the largest array of speakers, peer to peer opportunities, and exhibit hall offerings – all carefully designed to impart cutting edge business strategies. With an audience of the industry's most progressive dealers and managers and the most innovative conference format, Digital Dealer provides the ultimate learning and networking environment.  For more information, visit:  www.DigitalDealerConference.com
Author: