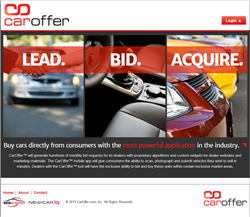 CarOffer™, launched in Dallas, Texas by industry entrepreneur Bruce Thompson, went live across the country on Thursday, April 17th with the industry's first-ever smartphone centric tool. The user-friendly app, employing the latest mobile technology, gives consumers the ability to launch their car within minutes from wherever they may be and receive real-time cash offers from premier dealers within their market area. For the first time, dealers with the CarOffer™ tool will be able to tap into unchartered territory and acquire inventory directly from consumers.
"Buying cars directly from consumers is the 'holy grail' in our industry," said Bruce Thompson, CEO/Founder of CarOffer™. "However, dealers have been unable to gain significant traction due to large used vehicle operations like CarMax dominating the market," said Thompson. "This tool allows the dealer to get in the game."
CarOffer™ charter dealer partners are some of the most influential dealers in the country. They have been hand picked for their innovative customer service experiences and their commitments to a better, more efficient vehicle selling process for the consumer. The product allows dealers to own specific territories exclusively. Based on the consumer's location, the bid will be routed to the dealer owning that territory to submit an offer.
"Our initial pilot launch has been tremendously successful," said Ziad Chartouni, company CTO. "We've only opened up about 10% of our capacity during the soft launch and the system is generating hundreds of consumer bid requests per day. We anticipate several thousand within the next 3-4 weeks. This is the real deal and it is the answer to acquiring needed inventory directly from the consumer."
Dealers license the CarOffer™ brand in their markets. As a result, they exclusively own the brand and territory giving them the ability to leverage a world-class creative team and infrastructure. "I can't tell you how pleased we are with the soft launch. We've already bought many vehicles and anticipate buying a few hundred in St. Louis each and every month. Great program with great execution, said Pete Fusz, Director of Used Vehicle Operations, Lou Fusz Auto Group.
The CarOffer™ application launched at the 2014 NADA Convention to dealers in January and is now available to consumers for free download on iPhone®, iPod touch® and Android devices. For more information, please visit http://www.caroffer.com or call 888-471-0787.
About CarOffer™
Founded in 2013 by Bruce Thompson (creator of Redbumper, LLC), CarOffer™ is based in Dallas, TX. Amongst an executive team with over 60 years of combined experience in all elements of the automotive industry, the company aims to provide unique and innovative software solutions that streamline and directly connect the consumer to the dealer across a wide spectrum of profit centers and technologies.
Author: