Car lease prices on today's most popular brands dropped -3.8% from year ago payment levels. The below data also show that people are staying in their leases at roughly the same amount of time before opting to exit their contract compared with year ago levels.
The Cadillac CTS saw the biggest price decline, with monthly payments dropping -39.9% compared with payments recorded a year ago. Average payments for the Cadillac CTS from June listings were $350.29 per month.
The Ford Escape saw the largest price increase, with monthly payments rising 31.5% compared with payments recorded a year ago. Average payments for the Ford Escape from June listings were $322.20 per month.
The rate of lease escape among drivers remains stable compared to year ago levels, and lessees listed their cars with an average of 20.1 months remaining in June (36-month leases). This compared to 20.9 months remaining last year, meaning drivers are currently holding onto their leases slightly longer.
"It is interesting to see that price declines were more exacerbated in many cases compared with price increases," said Scot Hall, Executive Vice President for Swapalease.com. "We anticipate that prices will continue to shift in the near term based on the manufacturer's level of lease deal aggressiveness."
Here is the price breakdown of what people are paying on today's most popular leases, according to June data from Swapalease.com: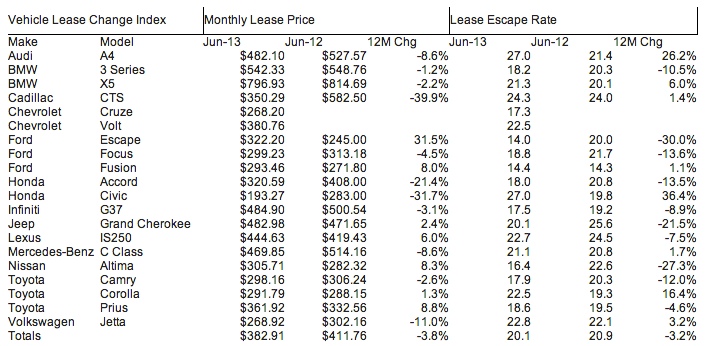 About Swapalease.com
Headquartered in Cincinnati, Ohio, Swapalease.com is the world's largest automotive lease marketplace and the pioneer in facilitating lease transfers online. More specifically Swapalease.com matches individuals who want to get out of their lease with people who are looking for short-term lease agreements. Prospective buyers can search the listings for the exact vehicle they want, and then register for a nominal fee, allowing them to use Swapalease.com's safe online system to contact the prospective seller and close the deal. For more information about Swapalease.com or how to exit your lease early, call 866-SWAPNOW or visit www.swapalease.com.
Author: