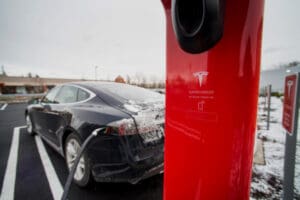 Car dealers prepare to do battle with Tesla at the state Capitol, from AJC.com.
Uber isn't the only paradigm-shifting company that will have a presence at the state Capitol next week, when state lawmakers gather in Atlanta. The difference is that electric car maker Tesla will definitely be playing defense.
Last month, Georgia auto dealers went before a state administrative judge to lay out their argument that the California company's business model violates state law, by selling directly to consumers.
Georgia dealers say state law requires sales to go through independent franchise car dealers, as other manufacturers to. Tesla argues that it is in compliance with state law, and that it needs to be able to sell directly to customers because company-owned stores have personnel more familiar with the advantages of electric cars.
Click here to read the entire article >>
---
Photo Credit:
Ron Antonelli/Bloomberg
Author: