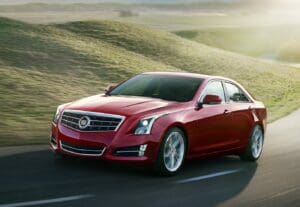 NEW YORK – The all-new Cadillac ATS is the 2012 Esquire Car of the Year, editors of the men's fashion and culture magazine announced today. The award is featured at Esquire.com and in the October print and digital editions to be released September 18.
"The new ATS is Cadillac's spirited challenger, built to take on the world," says Don Butler, vice president of Cadillac Marketing. "Having its design and performance validated in this fashion is a meaningful step in our journey."
Cadillac's new sport sedan, arriving in U.S. dealerships now, was chosen by Esquire from a field of the world's finest new cars.
"It's been heartening to watch the American auto industry re-assert itself over the last couple of years," says David Granger, editor-in-chief of Esquire. "The ATS is an exciting new chapter in that process—a balls to the wall effort at reinvention. It's fantastic."
In addition to the Car of the Year award, Esquire's October issue contains a long-form feature documenting the making of the ATS, from design to manufacturing, which began recently in Lansing, Mich.
A compact sport sedan, smaller than Cadillac's centerpiece CTS product line, the new ATS is the lightest car in its class with a unique architecture designed for nimble driving performance. The new ATS is offered in rear- and all-wheel drive versions, with a choice of powerful and efficient four and six-cylinder engines.
The new ATS debuted to millions of television and online viewers during the recent Summer Olympics. The unique campaign, called "ATS vs. The World" resumes in September, demonstrating the car's performance in a series of cinematic challenges.
Cadillac has been a leading luxury auto brand since 1902. In recent years, Cadillac has engineered a historic renaissance led by artful engineering and advanced technology. More information on Cadillac can be found at media.cadillac.com.
Author: