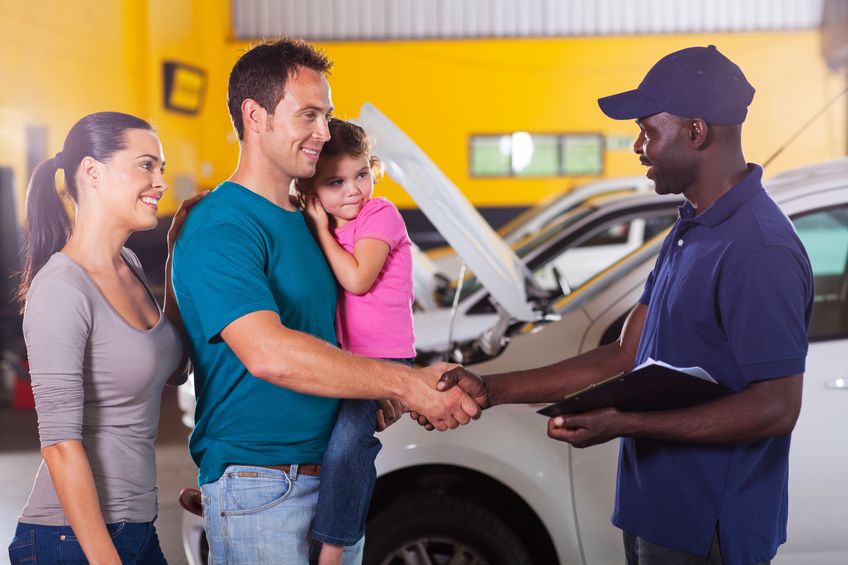 One of the largest obstacles that dealership service departments face is consumer mistrust. Articles with titles like "10 Tips to Avoid Auto Repair Rip-Offs," and "Avoid Getting Ripped Off on Repairs and Maintenance" are constantly being published by reputable sites including Edmunds and AutoTrader.com. This stigma rears its head in both service and sales and, in combination, feeds into the perception of mistrust consumers have towards dealerships.
Imagine a consumer visiting the dealership and being given a price on a vehicle. They don't buy on that day but come in again on another day and are given a different price. The more often this occurs, the less likely a consumer is to trust the salesperson or manager. However it frequently happens – for example, consumers constantly get lower prices from a dealership's Internet Sales department than from the same dealership's retail staff. All this accomplishes is MORE distrust than previously existed and it negates any rapport and confidence a salesperson had built in the process.
How likely do you think a service customer will trust your dealership if every time they come in they are told they need different services? Not very. The opposite is true as well. If a customer comes into your service department and the service advisor fails to mention a previously recommended (but declined) maintenance service, the customer can begin to wonder if it was actually needed.
Just as in sales, the key to winning consumer trust is through consistency in inspections and recommended services. The customer will not always work with the same advisor or have their inspection done by the same technician. Therefore, frequently the results and recommendations differ. Perhaps the differences comes about because one tech or advisor is more experienced than the other. Or perhaps the dealership's service department was busier on one day than another, and technicians took more time in their inspections. This inconsistency is something that dealerships are continuously battling, whether they are aware of it or not.
Try this test in your dealership. Once per quarter, have all of your technicians independently inspect the same vehicle. Make sure that the technicians do it one at a time out of view of the others. Once all of the technicians have completed the inspections, review the results. You'll likely discover, fairly quickly, which technicians are performing thorough inspections and which technicians need additional training. To encourage buy-in, turn this activity into a contest with a prize for the winner and/or a pizza party for the service staff if the inspections are very similar. Doing this on a quarterly or monthly basis will reinforce to your technicians the importance of completing thorough and consistent inspections on every vehicle. Ensuring everyone is working in harmony will instill more confidence with the service advisors to help them feel more confident in presenting the service recommendations for sale.
In addition, incorporating vehicle inspection clinics into your service team's quarterly routine will allow management to discover areas in which potential revenue is being missed through analyzing missed recommendations or incomplete inspections.
Many dealerships also fail to properly use available technology to help better explain needed repairs to the customer. Independent third party content exists that can explain the importance of a particular repair or service to a consumer through pictures and video in language that they can understand. This avoids the situation where a consumer declines the service simply because they want to get an opinion from a relative, or research it themselves before having the work done. It also strengthens consumer confidence in your recommendations by helping them understand the work being suggested and why it's important.
Consider technology that can help track and maintain records of customer visits, recommended services, and previous inspections to avoid awkward situations wherein one advisor recommends a maintenance item while another does not. The ability of a service advisor and/or technician to instantly pull up a previous inspection and see previous recommendations only solidifies the value and importance of the service to the consumer. If every time that consumer visits your dealership they receive the same recommendations, you'll find your service declines decrease.
The lack of consistency in inspections and recommendations is costing dealerships revenue. As a customer's trust increases through a consistent inspection process, they spend more per visit and begin to recommend you to their friends and relatives. It's easier to sell to an existing customer than a new one. But to keep that existing customer, you must continuously provide an excellent customer experience. Retention is key to the growth of any service department and loyalty is a fragile thing. It takes much longer to build a loyal customer than it does to lose one.
Position your store in a way that promotes professional growth opportunities for your techs, provides them the tools they need to succeed, and empowers your service advisors to deliver consistent and transparent recommendations. You will find your customers returning more often, spending more money, and acquiring new customers for you.
Author: