John Marazzi at Brandon Honda has a history of success and this year has become a partner at Morgan Automotive Group. The key to Marazzi's success is not only working hard but consistently finding ways to work smarter as well. During his two year tenure with Brandon Honda, Marazzi has managed to double his net profit with two consecutive years of 50% growth in both new and used car sales.
In order to accomplish this, Marazzi needed the right people in the right places and had to align established processes with his vision for the dealership. He focused his attention on driving traffic into his dealership.
Brandon Honda is situated seven miles west of downtown Tampa and, "is home to an educated camper community," describes John Marazzi, Owner. This boomer population, accounts for 23% of annual auto retail sales, and boomers are 15x more likely to buy a new car than 18-24 year olds. More than half of local residents fall within this age group.
The Tampa market faces heavy competition amongst a cynical audience, which to Marazzi, was an intimidating challenge. In order to deepen his roots, Marazzi had to take customers out of the hands of his competitors, and turn to marketing solutions that were both cutting edge and smart – like his customers.
"When we considered what was developing in the world of digital advertising and what consumer behavior was showing, it was obvious to me that we needed a strategy that would put us at the top of search results," Marazzi explained.
Staying on page one is both essential and difficult in markets with heavy competition. Search engines are constantly changing the rules – requiring more relevance, and penalizing advertiser's pocket-book for not maximizing the quality of search results delivered. According to studies, video results appear in about seventy percent of the top one-hundred listings on Google. Moreover, video has a 53X greater chance of ranking on the first result page than any textual page.
Marazzi knew that video was the way to get him the high placement he wanted, and knew that people engage more with video than text links. "People believe half of what they hear and all of what they see. What the video allows you to do is get them to appreciate what they see and engage with content that creates a human connection," said Marazzi.
To get the results he was looking for, Marazzi needed a solution that could incorporate video in his search strategy and reach in-market shoppers throughout the entire shopping process and not only when they were using the search engines, where over 60% of the consumer's time is spent cross shopping.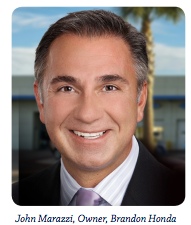 Becoming Page-One Relevant
Getting on page one of search results is difficult because not only are you competing against other dealers, you're also competing against cars.com and other used car websites. This is why part of Brandon Honda's strategy focuses on active shoppers – those customers who are in-market and actively searching online. Brandon Honda uses a system that monitors the most popular search phrases that are currently being used by consumers every month for the vehicles in Brandon Honda's inventory. These search terms are then used to create OEM compliant, dealership specific videos that are optimized to appear on page one and distributed to all of the major search engines.
"Video SEO was the way to dominate the Google, Bing and Yahoo search results. If we were going to get up in ranks – we needed to take traffic from competitors, so we targeted vehicles like the Camry, Corolla and Altima. Our search method is specific so we're becoming page one relevant," said Marazzi.
Brandon Honda is up 52% in conquest trade-ins by creating side-by-side comparison videos that promote the competitive advantage of every model sold. Then, optimize these videos to appear ahead of competition when in-market customers search for competitive makes and models. Every one of these dealer-specific is custom and uniquely created to work in unison with all past and future video content. This creates a cumulative impact that begins producing results on day one.
Consistency is certainly one of the most impressive parts of Brandon Honda's approach to SEO. Their strategy has taken them to the top of search engines for the most used search terms in their market.
Targeting In Market Consumers
People do more than shop for cars online. In fact, the average shopper turns to 24 research points for a single product. For an advertiser – this is a lot to compete with.
To increase their effect on in-market consumers, Marazzi began putting clickable, direct response videos in front of news stories, highlight reels, entertainment videos and other video content on popular lifestyle sites. The key point here – these ads are targeting in-market consumers when they are not actively researching vehicles.
Brandon Honda uses a pre-roll network that has over 300 popular sports, news, automotive and lifestyle websites and that allows them to control their ad spend by only serving content to those who meet the ideal criteria for each campaign. This includes the ability to target customers by age, geographic location, and even by their current vehicle details like make, model, year, payment range and many other criteria.
Marazzi is very passionate about this part of their strategy and says that what he likes most is the way their strategic partner monitors every site in the network and only serves content to those sites that are creating the highest conversion rates. This, combined with the way they are targeting in-market shoppers, is generating 1,500 more clicks to their website.
"This is a very big deal," says AJ LeBlanc, co-founder and Managing Partner of Car-Mercial.com, the strategic partner that Brandon Honda uses for its targeted video marketing strategy, "when positioning Brandon Honda's targeting and SEO strategy, we were sure this would move the needle."

Tying it all together
Brandon Honda certainly has the top shelf credentials in their market. They are the #1 Honda dealer on west coast of Florida and #1 in certified sales. Brandon Honda is up 39% year over year in new car sales, up 49% year over year in pre-owned vehicle sales and up 61% in fixed operations.
"The great part about Car-Mercial is that they have it down to a science. There are over 1,500 hundred unique visitors going to my website each month that I can directly credit to them. If I don't sell 50 more cars a month with that, then shame on me," said Marazzi.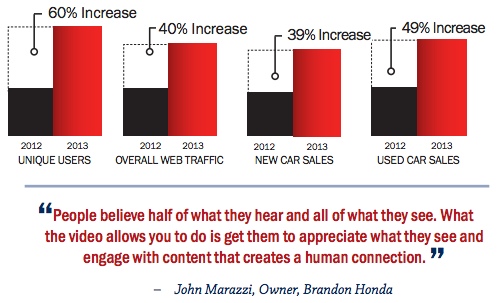 Author: