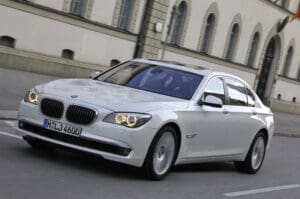 According to the National Highway Traffic Administration's website, BMW is recalling certain model year 2005-2008 7-Series vehicles, equipped with the Comfort Access option, and manufactured August 23, 2004, through July 24, 2008. The affected vehicles have an electronic key and an electronic connection between the gear shifter and the transmission (shift-by-wire) that automatically shifts the transmission to Park when the driver presses the Start/Stop button to shutdown the engine. If the driver presses the engine Start/Stop button 2 or 3 times within a short time interval, the system may shift the transmission to Neutral rather than Park. If using the electronic key (Comfort Access mode), there would be no protection from the ignition interlock that prevents key removal if the vehicle is not in Park.
The following vehicles are included in the recall:
2005 BMW 745i
2005 BMW 745Li
2006-2008 BMW 750i
2006-2008 BMW 750Li
2005-2006 BMW 760i
2005-2006 BMW 760Li
Click here for more information on this recall.
Author: