Is your team capitalizing on every opportunity? Grant Cardone, New York Times, WSJ and Amazon best-selling author and sales training expert, will be teaching you how to maximize productivity at the dealership.
The number one problem shared by small businesses today is people.  Productivity is a key problem today.  How do you get people to show up and focus on their work, to see the bigger picture, to take ownership of their position, and to increase levels of production?   Grant Cardone is sharing his expertise with you.
What will you learn and what action items will you take back to the dealership?
1. Learn three ways to motivate your people daily.
2. Learn the most important skill that will set up your people for success and reduce your advertising costs.
3. Learn the key strategy that will keep your people focused and productive.

Grant Cardone is a New York Times, WSJ and Amazon best-selling author, a sales training expert, a Twitter Top 10 Business Coach and a host of the reality TV show TurnAround King. Cardone provides consultation services and customized sales training programs to Fortune 500 companies, small businesses, success-minded individuals and entrepreneurs. He appears regularly on Fox News, Fox Business, CNBC, MSNBC, WSJ and Bloomberg. Through his five books (all written since the 2008 financial crisis), Cardone discusses what individuals must do to be successful in this new economy. He is a sought after speaker, delivering speeches to leading corporations and professional organizations, renowned academic and charitable institutions.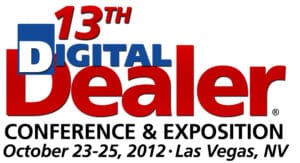 A 13th Digital Dealer® Conference & Exposition Featured Speaker: Grant Cardone presents:  How to Get the Most Out of your People: Is your team capitalizing on every opportunity?
We're building out the agenda, selecting speakers and topics for more than 100 sessions that are laser-focused on all things digital.
The Digital Dealer Conference & Exposition is the premier educational conference and expo dedicated to Internet and technology solutions for automotive professionals. Digital Dealer events deliver the largest array of speakers, peer to peer opportunities, and exhibit hall offerings – all carefully designed to impart cutting edge business strategies. With an audience of the industry's most progressive dealers and managers and the most innovative conference format, Digital Dealer provides the ultimate learning and networking environment.  For more information, visit:  www.DigitalDealerConference.com.
Author: