In 2013, Mike Beaver and Matt Calavan purchased a Toyota dealership out of bankruptcy and set out to do what they had done several times before – turn an underperforming dealership into a market leader. This would prove much harder than anticipated. However, in just 24 months Beaver, Calavan and their remarkable team pulled Beaver Toyota out of the nation's bottom 10% and transformed it into one of the top performing dealerships in the country. Their once struggling store is up 67% in YOY new car sales, up 39% in YOY used car sales and is now ranked in the nation's top 100 for both sales and service satisfaction.
Background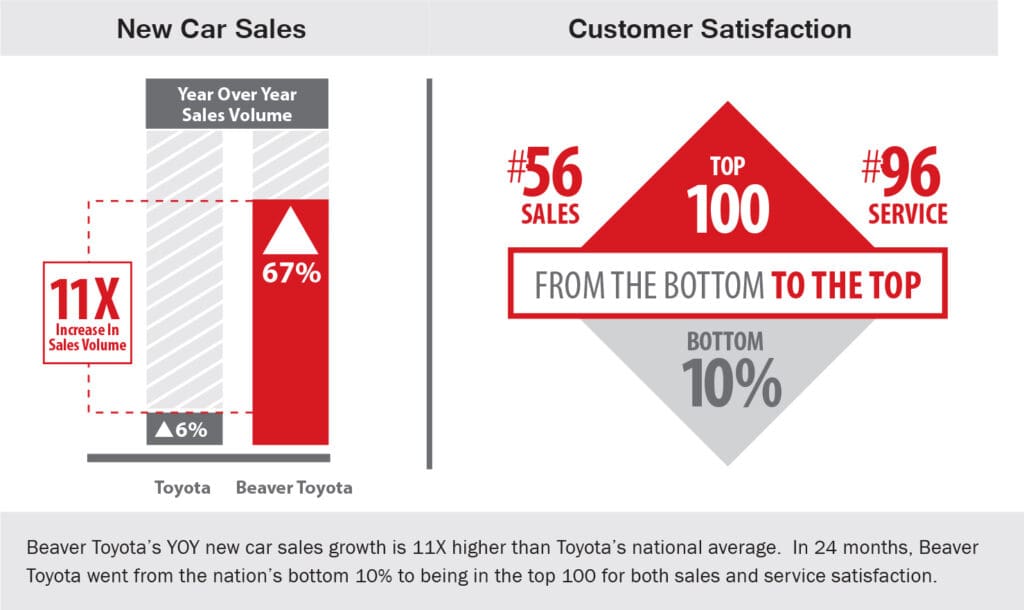 The dealership now known as Beaver Toyota had a long history of challenges. In the 6 years prior to Calavan taking over, the store had turned over 12 general managers and 12 different service managers. The dealership also had a terrible reputation. The review sites were full of negative reviews and the community was very outspoken about its opinion of the previous owners. Finally, the store's database was shallow and fragmented. Much of the data was incomplete or unusable. This meant that Beaver Toyota would be starting from scratch. "Getting the keys to the dealership was one of the best and worst days of my life" says Matt Calavan, GM and partner of Beaver Toyota.
In less than 2 years, that is exactly what they did. Here's how they did it.
Step 1: Connect With The Community
To overcome the store's reputation challenges, Calavan addressed the problem head on. "As the new owner, I had to come to terms with the fact that there was no us and them. This was our store now and, like it or not, this was our reputation. Complaining about it wasn't going to solve anything."
First, he established positive relationships with civic organizations and partnered with the area's school systems to demonstrate his team's commitment to having a positive impact on the community. This included sponsoring after school programs in under privileged neighborhoods as well as setting up a relationship with the school board to give a new car every year to the county's "Teacher of The Year".
Secondly, Calavan launched a series of campaigns focused on promoting Beaver Toyota's new leadership, culture and brand. These campaigns combined traditional and digital media channels and allowed Calavan and his team to connect with customers that had not previously considered buying or servicing at their store.
Part 2: Establish a "Customer First" Culture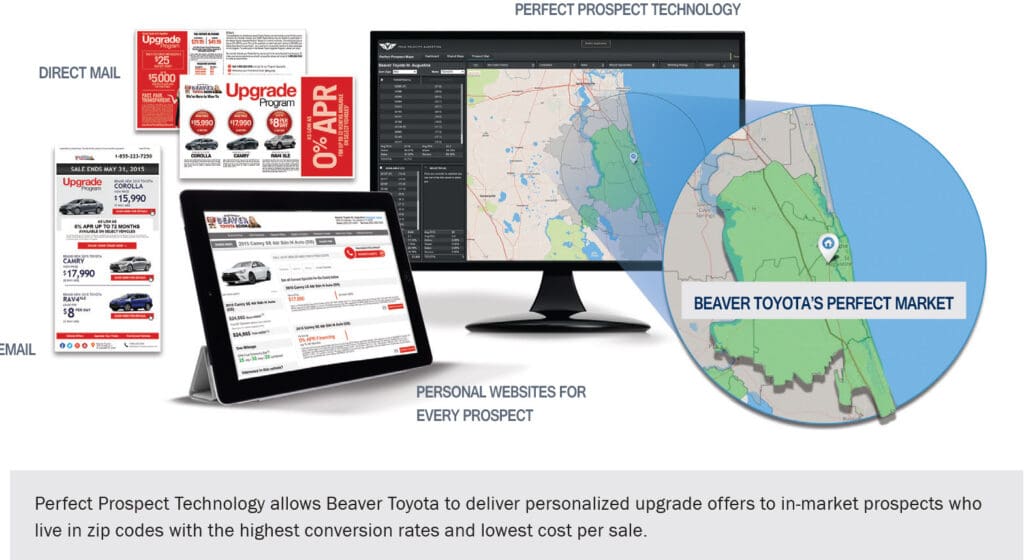 In order to fulfill his vision of turning Beaver Toyota into a market leader, Calavan needed to create a company culture that was consistent with the message being promoted on the airwaves. In this regard, Calavan got a lucky break. Nine of his core team members from Sante Fe moved with him to Florida. This allowed him to instantly fill many of the key roles he needed to get his proven processes working in St. Augustine. This included the customer relations manager, the service / parts director, sales manager, the finance manager, the BDC director, three salespersons and a service writer. With these people in place, Calavan instituted processes that promote transparency between profit centers and encourage customers to view Beaver Toyota as a single location for all of their automotive needs.
"We believe that sales volume and profitability are byproducts of serving the customers", says Calavan. "When we do that right the bottom line takes care of itself."
Step 3: Leverage Data-Driven Marketing
Beaver Toyota uses a 60/40 mix of traditional and targeted marketing. The traditional sources focus on promoting the values and unique advantages of doing business with Beaver Toyota while the targeted marketing sources focus on delivering personalized offers to in-market shoppers across multiple media channels. To maximize the effectiveness of their targeted marketing channels Beaver Toyota uses a proprietary solution called "Perfect Prospect" technology that analyzes the store's entire market area and identifies the zip codes that have the highest close rates and the lowest cost per sale.
Beaver Toyota uses this technology to identify vehicle owners with the highest statistical probability of buying or servicing with their dealership, same brand owners who have never visited their store, and off-brand vehicle owners with a historical pattern of crossing over to Toyota.
Being able to identify our hightest value prospects and deliver personalized messages across multiple media channels allowed us to be extremely effective. Once we put this in place, our business began to grow the way we wanted it to."
Step 4: Increase Retention

The next step in Calavan's growth strategy was to leverage their growing service business to upsell customers before they begin the shopping process. To do this, Beaver Toyota implemented a multi-channel "Vehicle Upgrade Program". This program evaluates 100% of the sales and service customers in their database every month to identify all of the customers who can upgrade into a better vehicle for a better payment. Once prospects are identified, their system creates personal websites for every eligible customer. These websites allow customers to compare their current vehicle against all of the new and used vehicles in Beaver Toyota's inventory that they can trade into for a similar or lower monthly payment. These comparisons include a detailed list of the newer vehicle's enhancements as well as the cost of ownership savings associated with upgrading into a new vehicle with a better warranty.
Once a prospect has been identified, they are automatically notified that they are eligible for Beaver Toyota's Vehicle Upgrade Program and they receive personalized offers every month via email and mail for as long as they own their vehicle.
A big plus of this program is the way it has allowed Beaver Toyota to engage customers in the service lane.
"The Vehicle Upgrade Program allows us to capture up to 50 sales a month directly from our service lane", says Calavan. "This program worked well for us in Santa Fe but we had to wait for the right time in Florida. Now that we have a couple of years of data, this is generating great results and it will only get better over time."
Conclusion
The results Beaver Toyota is generating with their data-driven approach are undeniable. When Calavan took over 2 years ago, the dealership was fresh out of bankruptcy and was ranked in the nation's bottom 10% for both sales and service satisfaction. Today, Beaver Toyota is in the nation's top 100 for both sales and service satisfaction (out of over 1,200 stores) and is experiencing record growth in both new and used car sales. Used car sales are up 39% YOY and new car sales are up 67% YOY.
Author: