Who knows your dealership better: you or the OEM? As dealers, we get pressure from the OEMs to purchase CRM solutions that they choose. But when it comes to selecting the right technology to solve your problems with Internet lead management and customer follow up, dealers need to be empowered to make better decisions. Howard Leavitt believes that making an honest evaluation of your staff, your sales process, and of the problems you are trying to solve is the first and most important step in implementing a CRM solution. Don't just follow the sheep to pasture. In this fun and eye opening session, you will learn the good, the bad and the ugly about CRMs, and the key steps you must take to ensure you are making the right decision! Howard Leavitt is sharing his expertise with you.
What will you learn and what action items will you take back to the dealership?
1. Learn how to determine the individual competencies (and deficiencies) of your sales staff, and why this is the most important first step in choosing a CRM solution that best fits your dealership.
2. Learn how to turn weaknesses in your staff into strengths.
3. Learn how the right CRM will empower your salespeople, not restrict them.
Howard Leavitt is the founder of AutoRaptor CRM. With over 40 years of experience and with a strong reputation as one of the most accomplished retail managers on the U.S. automotive scene, he is dedicated to sharing his knowledge and leadership experience to help dealers down the path of success.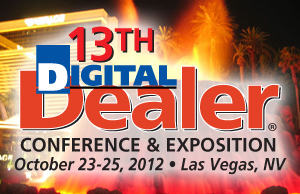 A 13th Digital Dealer® Conference & Exposition Featured Speaker: Howard Leavitt presents:  How to Choose the Right CRM: Tips and tricks for better decision making.
We're building out the agenda, selecting speakers and topics for more than 100 sessions that are laser-focused on all things digital.
The Digital Dealer Conference & Exposition is the premier educational conference and expo dedicated to Internet and technology solutions for automotive professionals. Digital Dealer events deliver the largest array of speakers, peer to peer opportunities, and exhibit hall offerings – all carefully designed to impart cutting edge business strategies. With an audience of the industry's most progressive dealers and managers and the most innovative conference format, Digital Dealer provides the ultimate learning and networking environment.  For more information, visit:  www.DigitalDealerConference.com
Author: