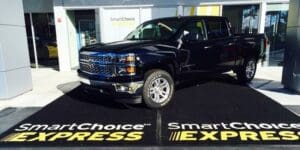 AutoNation plans mid-December rollout of digital storefront in Florida, from Automotive News.
Company promotes 5-step buying process, called SmartChoice Express
Starting Dec. 11, customers of 30 AutoNation stores in south Florida will be able to use their credit cards to reserve a car they want to buy, as part of a purchase process that is largely online.
That's one of the benefits the country's largest dealership group will offer customers as it launches phase one of what it's calling its new digital storefront.
Phase one includes the ability to hold and then purchase a vehicle with a guaranteed price through a five-step process that AutoNation is calling SmartChoice Express.
"We see a frustrated consumer that currently has an online experience and an in-store experience that are very much disconnected," said AutoNation CEO Mike Jackson. "We see that as an opportunity."
The digital storefront is a $100 million-plus investment to establish the AutoNation brand and transform the company's websites from informational to transactional. The new web tools are expected to cut transaction time and improve customer satisfaction.
Click here to read the entire article >>
Author: