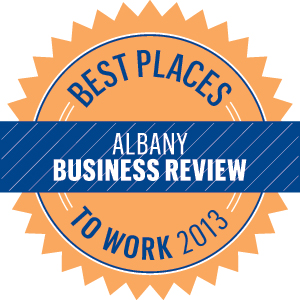 Auto/Mate Dealership Systems  announced  it was named one of the 2013 "Best Places to Work" in New York State's Capital region by the Albany Business Review. This is the fourth year in a row that Auto/Mate has received the honor.
"I believe that taking care of employees and ensuring they are happy is just as important as taking care of our customers," said Mike Esposito, President and CEO of Auto/Mate. "Part of our culture is to encourage employees to be the best they can be, and we want to provide the opportunities for them to achieve their goals."
Auto/Mate provides world-class customer service to its customers and hires people who share in that mindset. Understanding that a team needs to have core values, Auto/Mate's employees have articulated the company's core values to be adhered to by all Auto/Mate employees:
Be passionate and enjoy what you do
Customer centricity
Honesty & integrity
Humility
Family
Loyalty & commitment
"Auto/Mate has an open door policy when it comes to employee communications, and we offer employees a casual and fun work environment," said Dave Druzynski, Director of Human Resources. "Of course, that's all within a very productive, innovative work environment that fosters a 'whatever it takes' attitude to get the work done and make the customers happy."
A celebratory luncheon will be held to honor "Best Places to Work" award recipients on December 6th at the Hilton Albany. The top companies will also be profiled in a special supplement of the Albany Business Review to be issued on the same date.
Every year the Albany Business Review honors just 30 companies with the "Best Places to Work" distinction. The business journal partners with Quantum Workplace, a Nebraska based research firm, to conduct anonymous employee surveys. The companies with the highest scores were recognized and ranked on team effectiveness, retention, employee alignment with company goals, trust with co-workers, individual contribution, manager effectiveness, trust in senior leaders, feeling valued, work engagement and people practices.
For information on career opportunities with Auto/Mate, contact David Druzynski at (877) 340-2677 or visit www.automate.com/careers
About Auto/Mate (www.automate.com)
Auto/Mate Dealership Systems is a leading provider of dealership management system (DMS) software to retail automotive dealerships. Its Automotive Management Productivity Suite (AMPS) is a user-friendly, feature-rich DMS in use by more than 900 auto dealers nationwide. In 2013 Auto/Mate received the "Highest Rated" DMS award in the fourth annual Driving Sales Dealer Satisfaction Awards.
Auto/Mate's employees have more than 800 years of combined experience working in auto dealerships – the foundation of its "Designed By Car People For Car PeopleTM" slogan. For more information visit our website, follow us on Twitter @AutoMateDMS and subscribe to our blog at http://blog.automate.com
Author: