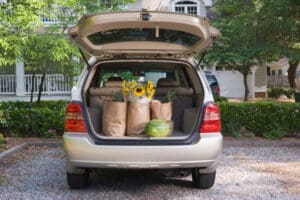 IRVINE, Calif. — School has begun for most everyone and that brings with it more team sports and activities. Parents understand the grueling schedule of school drop-offs, after school activities and weekend outings. With the hustle and bustle of everyday life, the last thing families want to think about is whether or not the family car accommodates their hectic lifestyle and is fuel efficient. Fortunately, the editors at Autobytel Inc. (Nasdaq: ABTL), the company dedicated to helping dealers and car buyers connect online, have chosen the Best MPG Minivans for 2012, showcasing the vehicles that ranked highest in mileage, comfort and safety.
According to AutoPacific's Fuel Price Impact Survey, which measures future vehicle purchase intentions and attitudes toward driving, drivers are paying an average of $3.84 per gallon for regular gasoline. With gas prices continuing to rise, consumers need to consider fuel efficiency when shopping for a car. Many may find it surprising that most minivans get 21 mpg, which isn't too shabby considering their size.
Michelle Naranjo, Autobytel editor-in-chief, shared, "While minivans aren't always seen as the most glamorous of vehicles, they all offer great amenities and features in addition to being dependable, roomy and great for families of all sizes." She continues, "There's a minivan for households of all budgets, ranging from the Mazda5's $20k price tag to the more expensive Odyssey Touring Elite priced around $44k." Making a transition from your two-door to a minivan? At 24 mpg in combined city and highway driving, the 2012 Mazda5 minivan is a solid choice. Living up to its name, the Mazda5 is a true minivan, perfect for those who need more space but don't want all the bulk. It comfortably seats four and provides enough cargo space for all of a growing family's necessities.
Soccer moms who tote around multiple kids and their friends will appreciate the safety ratings and interior capacity of the popular Toyota Sienna and Honda Odyssey, both of which ranked highest among Autobytel's editors. Both minivans average 21 mpg and are listed as "Top Safety Picks" by the Insurance Institute for Highway Safety.
Also making Autobytel's top picks are the Kia Sedona and Nissan Quest. The Kia Sedona's 10-year/100,000 mile-warranty on the transmission and the Nissan Quest's unique interior layout make them solid mid-price choices.
For more details on the best mpg minivans and to see more Autobytel editors' choices, visit www.Autobytel.com. Watch exclusive videos on Autobytel's YouTube page or join the conversation on the Autobytel Facebook Fan Page.
About Autobytel Inc.
Autobytel Inc., an online leader offering consumer purchase requests and marketing resources to car dealers and manufacturers and providing consumers with the information they need to purchase new and used cars, pioneered the automotive Internet when it launched its flagship website in 1995. Autobytel continues to offer innovative products and services to help consumers buy, and auto dealers and manufacturers sell, more used and new cars. Autobytel has helped tens of millions of automotive consumers research vehicles; connected thousands of dealers nationwide with motivated car buyers; and helped every major automaker market its brand online. Through its flagship website, network of automotive sites and respected online affiliates, Autobytel continues its dedication to innovating the industry's highest quality Internet programs to provide consumers with a comprehensive and positive automotive research and purchasing experience, and auto dealers, dealer groups and auto manufacturers with some of the industry's most productive and cost-effective customer referral and marketing programs.
Investors and other interested parties can receive Autobytel news releases and invitations to special events by accessing the online registration form at http://investor.autobytel.com/alerts.cfm.
Author: