Terry McSpadden from EasyCare, is sharing his expertise with automotive dealers and managers on how to use video to significantly increase service and sales retention.
A soft spot has been identified in the automotive industry – hot instant video messaging. In keeping with the sweeping technological revolution that has gripped the world, Terry McSpadden believes that digital communications between car dealers and customers will significantly improve service and sales retention to enhance dealers' ownership experience and their customers' buying experience.
Through this new technique of notifying customers through instant video messaging, car dealerships will see an increase in loyalty retention, sales and customer prospects in a primary market area. This will also allow for businesses  throughout the U.S. to communicate best practices and industry knowledge.

What will you learn and what action items will you take back to the dealership?
1. Learn how to question what kind of video messaging and notifications your dealerships are using to impact customer retention, sales growth and market share.
2) Learn about using a secure video tool that will not allow your customer to stray.
3) Learn how to review your dealerships' communications and how QR codes and video can work together.   Do you bring your POS, POP materials and F&I communications to life using QR codes? Now you can bring your cars to life!
For the past three years, Terry McSpadden has brought his unique vision and expertise to EasyCare. An industry veteran, McSpadden boasts more than 15 years of experience in automotive retail in the Midwest and Southeast regions. He has extensive experience in marketing, management, sales and event training.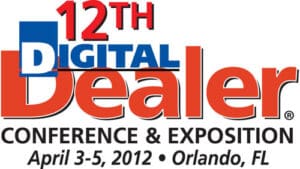 A 12th Digital Dealer® Conference & Exposition Featured Speaker: Terry McSpadden presents:  Increase Retention with Instant Video Mail: How to use video to significantly increase service and sales retention.
We're building out the agenda, selecting speakers and topics for more than 90 sessions that are laser-focused on all things digital.
www.DigitalDealerConference.com
Author: