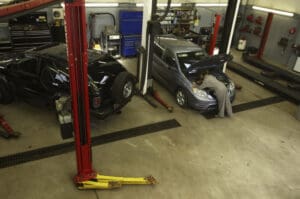 St. Louis – Contrary to the negative perceptions often associated with automotive dealerships, a recent Maritz Research CEBenchmarks™ study revealed the auto industry outperforms several other industries, including retail and wireless services, when it comes to providing a quality customer service experience. In fact, three in four customers rated their experience among the three highest ratings on a 10-point scale when purchasing or leasing a vehicle or having a vehicle serviced.
The CEBenchmarks study compared customer service experiences across 11 industries and 34 types of transactions. Specifically, for automotive transactions, customers were asked about experiences purchasing or leasing a vehicle from a new car dealership in the past six months and having vehicles serviced at a new car dealership within the past three months.
"With so many dealerships vying for business with increased competition, ensuring quality customer experience during the buying and servicing process is incredibly important," said Scott Pimley , strategic consulting director of Maritz Research's Automotive Research Group. "Our findings demonstrate that personnel at automotive dealerships recognize how providing a good experience can create loyal customers and benefit the dealership's bottom line."
When asked more detailed questions about their automotive sales experience, 74.5 percent of customers were satisfied. The study also identified key factors in driving this customer satisfaction. Customers rated their experience with the sales process as the most important aspect, followed by dealership honesty, dealership keeping promises, vehicle delivery process and financing/paperwork process as additional indicators of satisfaction.
When it came to automotive service, 74.9 percent of customers were satisfied, citing dealership honesty as the most important factor in driving their satisfaction. Additional key factors included quality of repair, timeliness of service, drop-off and service write-off process, vehicle pick-up process and vehicle fixed right the first time.
"Leading several industries in customer satisfaction is a great testament to auto dealerships understanding and then satisfying their customers' needs," said Chris Travell , vice president of strategic consulting for the Maritz Research Automotive Research Group. "As more and more people use social media and online commerce instead of face-to-face interaction, it will be increasingly more important for dealers to provide a quality customer experience that can be delivered virtually and personally."
In fact, a fall Maritz Poll on general social media usage revealed that more than 65 percent of customers are using social media when making auto purchasing decisions. In that poll, the auto industry leads 10 other industries in social media usage to influence buying.
For additional commentary and insights regarding the CEBenchmark's study, visit:http://therideblog.com/customerexperience/shattering-negative-stereotypes-in-the-automotive-industry/ .
For more information, check out our accompanying infographic and Executive Summary.  
 About CEBenchmarks
CEBenchmarks™ is a new customer experience measurement (CEM) benchmarking tool that enables companies to understand how they stack up to competitors on key customer experience measures, both within and outside their own industry sector. CEBenchmarks collects data on a continuous basis and delivers quarterly benchmarks on 31 categories of customer experience activity across several industries, including automotive, retail & restaurants, hospitality, insurance & investments, wireless, cable & internet, and banking & finance. CEBenchmarks measures representative satisfaction, overall satisfaction, likelihood to recommend, and likelihood to repeat purchase/loyalty, which are included in the study across all customer experience categories.
About Maritz Research
As one of the world's largest marketing research firms, Maritz Research, a unit of Maritz, helps many of today's most successful companies improve performance through a deep understanding of their customers, employees and channel partners. Founded in 1973, it offers a range of strategic and tactical solutions concentrating primarily in the automotive, financial services, hospitality, technology, telecommunications, and retail industries. The company has achieved ISO 20252 registration, the international symbol of quality. It is a member of CASRO, ESOMAR, MRA, and is the official sponsor of the American Marketing Association.
For more information, visit www.MaritzResearch.com or contact us at 1-877-4MARITZ.
Author: