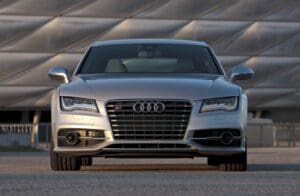 HERNDON, Va. — Audi will air its upcoming :60 Super Bowl TV spot during "vampire hours" beginning this week. Viewers can catch the commercial – which puts Audi signature LEDs up against the iconic vampires – between midnight and 3 a.m. on select Cable Networks.
Commercial takes on infamous pop-culture vampire craze with a humorous twist
Spot showcases Audi signature LED headlights that mimic daylight
Ad set to air in first quarter as first automotive commercial in the game
The cinematic spot features the new 2013 Audi S7 and the brand's signature LED headlight technology. In the ad, a group of vampire party-goers come face to face with Audi signature LEDs.  At 5,500 Kelvin – the closest recreation of daylight available – Audi LEDs are the clear winner, zapping the vampires and putting an end to the ubiquitous pop culture icon.

The advertisement will also feature a Twitter hashtag – #SoLongVampires – for fans to engage with post-game.  In 2011, Audi became the first brand to feature a hashtag in its Super Bowl spot.
Audi's Super Bowl XLVI commercial is now live on the brand's YouTube channel, with millions of views within the first few days.  The spot features the song "The Killing Moon" by Echo & The Bunnymen and was created by San Francisco-based Venables Bell & Partners.
ABOUT AUDI
Audi of America, Inc. and its U.S. dealers offer a full line of German-engineered luxury vehicles. AUDI AG is among the most successful luxury automotive brands globally. Audi was a top-performing luxury brand in Europe during 2011, and broke all-time company sales records in the U.S. Through 2016, AUDI AG will invest about $17 billion on new products and technologies. Visit www.audiusa.com or www.audiusanews.com for more information regarding Audi vehicle and business issues.
Author: