HERNDON, Va. — Audi today announced it sold more vehiclesin June 2012 than in any month since entering the U.S. market 42 years ago.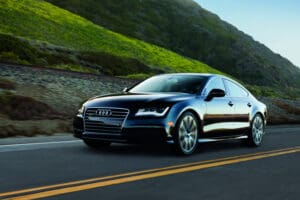 The new all-time monthly U.S. sales record of 12,664 vehicles sold in June beat the prior record of 12,655 vehicles sold in December 2011. June 2012 sales increased 26% over June 2011. The just concluded month also marks the 18th consecutive monthly sales record for the brand, as well as the highest sales numbers registered for the first half of any year at 65,158 in the January to June period. Year-to-date 2012 sales through June represented a 16.5% gain.
Audi executives expressed confidence that sales for all of 2012 will set a new annual record, topping the 117,561 sales mark set last year.
"Our long-term strategy has been to relentlessly achieve realistic levels of sales based on the most advanced lineup in the luxury car market," said Mark Del Rosso, Chief Operating Officer, Audi of America. "The best is yet to come for this year as new, or substantially updated, models representing about 60% of our sales volume are only now reaching dealerships in the U.S."
Sales of Audi premium category vehicles (A8, A7, A6, and Q7) jumped 51% YTD and represented 29.1% of total June sales. Overall, sales improvements shown by Audi in the top tiers of the luxury sector accounted for 40% of the Audi June gain.
June sales of the new technologically advanced Audi A6 ranked as the best month ever for the sedan with a 226.8% sales increase for the month and a 140% increase year-to-date. Audi luxury SUV performance was led by an increase in sales of the Audi Q5, with a 60.7% jump in June, and a 21.6% year-to-date gain. The Audi A3 also performed favorably with an increase of 45.5% for the month.
Highlights
June 2012 sets the all-time single month sales record in Audi of America history; the 18th consecutive month of unprecedented sales and the all-time YTD record total sales for the January through June period.
Audi A6 sales soared 226.8% compared to June 2011; YTD sales grew 140% compared to previous period.
Audi A7 YTD sales increased 113.3%, compared to previous period.
Sales of Audi Q5 jumped 60.7% compared to June 2011; YTD sales up 21.6% compared to previous period.
Audi A3 sales remained strong with an increase of 45.5%, compared to June 2011.
Sales of Audi TDI models remained strong with clean diesel models making up 64.8 percent of overall Audi A3 models (402 June sales) and 37.1 percent of overall Audi Q7 sales (255 June sales).
For the record-setting month of June 2012, four Audi models recorded year-over-year sales increases of 20% or more, including the Audi A3, the Audi A6, the Audi A8, and the Audi Q5 models.
Audi Certified pre-owned sales remained strong, despite the reduced inventory of available models for the program. As a result, 2012 year-to-date Audi CPO sales of 18,339 were 2.7 percent below the record pace set in in the first half of 2011.
AUDI US SNAPSHOT
–YTD–
Model Line
June '12 Actual
June '11 Actual
Yr/Yr % change
June '12 YTD Actual
June '11 YTD Actual
Yr/Yr % change
A3
620
426
45.5%
3,578
3,367
6.3%
A4
3,707
3,610
2.7%
18,559
18,811
-1.3%
A5
1,607
1,361
18.1%
8,002
7,820
2.3%
A6
1,745
534
226.8%
8,584
3,577
140.0%
A7
652
772
-15.5%
4,249
1,992
113.3%
A8
597
482
23.9%
2,548
2,850
-10.6%
Audi Q5
2,780
1,730
60.7%
13,544
11,135
21.6%
Audi Q7
688
842
-18.3%
4,449
4,714
-5.6%
R8
78
108
-27.8%
503
600
-16.2%
TT
190
186
2.2%
1,142
1,043
9.5%
Total New Sales
12,664
10,051
26.0%
65,158
55,909
16.5%
Total CPO Sales
3,344
3,636
-8.0%
18,339
18,842
-2.7%
ABOUT AUDI
Audi of America, Inc. and its U.S. dealers offer a full line of German-engineered luxury vehicles. AUDI AG is among the most successful luxury automotive brands globally. Audi was a top-performing luxury brand in Europe during 2011, and broke all-time company sales records in the U.S. Through 2016, AUDI AG will invest about $17 billion on new products and technologies. Visit
www.audiusa.com
or
www.audiusanews.com
for more information regarding Audi vehicle and business issues.
Author: