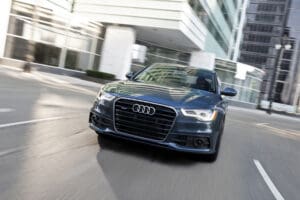 Premium category vehicles (A8, A7, A6, and Q7) represent nearly one-third of August Audi customer deliveries; August marks 20th consecutive month of record sales
Audi today reported record-setting August sales of 11,527 new vehicles representing a 13% increase above the previous record set in August of last year. August also stands as the 20th consecutive month of record U.S. performance by the brand with the four rings.
Sales of Audi premium category vehicles (the Audi A8, Audi A7, Audi A6, and Audi Q7) equal 32% of total August sales further demonstrating the brand's upward mobility in the luxury sector. This was a 61% increase of premium vehicles sold. August sales momentum benefitted strongly from robust demand for the technologically advanced Audi A6 generating a 58.6% sales increase for the month and a 112.3% increase year to date.
Premium consumer interest in the newly designed Audi A4 contributed to a 21.5% increase in sales, while the newly-designed Audi A5 also increased 26.9% for the month and 9.1% year-to-date. The Audi Q7 also performed favorably with an increase of 32.1% for the month of August.
"Audi momentum in the U.S. continues unabated. Twenty consecutive months of record sales proves that the brand is on track to deliver another chart topping year," said Mark Del Rosso, Chief Operating Officer, Audi of America. "Looking ahead, the Audi story will only improve with the introduction of the S6, S7 and S8 premium performance models."
Highlights:
• August 2012 ranks as the best August in Audi of America history
• Audi A4 sales up 21.5% compared to August 2011; YTD sales grew 6.3% compared to previous period.
• Audi A5 sales up 26.9% compared to August 2011; YTD sales grew 9.1% compared to previous period.
• Sales of Audi A6 increased 58.6% compared to August 2011; YTD sales up 112.3% compared to previous period.
• Sales mix for Audi TDI clean diesel models finish the month at 56.2% for the A3 TDI and 19.2% for Q7 TDI
• For the record-setting month of August 2012, four Audi models recorded year-over-year sales increases of 20% or more, including the Audi A4, the Audi A5, the Audi A6 and the Q7 models.
• Audi Certified pre-owned sales set an all-time record of 3,366 vehicles sold, amounting to the best August in Audi history, despite the reduced inventory of available models for the program.
AUDI US SNAPSHOT
–YTD–
Model Line
August '12 Actual
August '11 Actual
Yr/Yr % change
August '12 YTD Actual
August '11 YTD Actual
Yr/Yr % change
A3
715
764
-6.4%
4,944
4,567
8.3%
A4
3,187
2,623
21.5%
25,195
23,708
6.3%
A5
1,677
1,322
26.9%
11,411
10,455
9.1%
A6
1,569
989
58.6%
11,844
5,580
112.3%
A7
704
703
-0.1%
5,531
3,404
62.5%
A8
470
468
0.4%
3,419
3,768
-9.3%
Audi Q5
2,007
2,301
-12.8%
17,641
15,336
15.0%
Audi Q7
951
720
32.1%
6,291
6,224
1.1%
R8
46
80
-42.5%
604
762
-20.7%
TT
201
231
-13.0%
1,512
1,452
4.1%
Total Audi Sales
11,527
10,201
13.0%
88,392
75,256
17.5%
Total CPO Sales
3,366
3,170
6.2%
24,841
25,518
-2.7%
ABOUT AUDI
Audi of America, Inc. and its U.S. dealers offer a full line of German-engineered luxury vehicles. AUDI AG is among the most successful luxury automotive brands globally. Audi was a top-performing luxury brand in Europe during 2011, and broke all-time company sales records in the U.S. AUDI AG is planning to invest a total of EUR 13 billion over the period 2012 through 2016 on new products and technologies. Visit www.audiusa.com or www.audiusanews.com for more information regarding Audi vehicle and business issues.
NOTES:
– A4 includes Audi A4 avant, A4 sedan, S4 sedan and Audi allroad models.
– A5 includes Audi A5 coupe and A5 cabriolet models.
– A6 includes Audi A6 sedan, S6 sedan and A6 avant models.
– All-new A7 model sales began in April 2011.
– 2012 A8 includes Audi A8 sedan, A8L sedan and S8 sedan models.
– TT includes Audi TT coupe' and TT roadster models.
– R8 includes Audi R8 coupe and R8 spyder models.
Author: