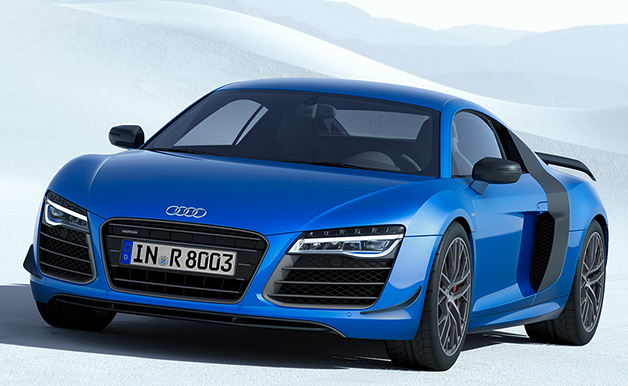 Audi R8 LMX has frickin' lasers for headlights, from Autoblog.
It might look like just another Audi R8, but Ingolstadt tells us this one is different: it is the limited edition Audi R8 LMX (click image above to enlarge) with laser-enhanced LED high-beam headlights. Audi introduced the laserlight technology on its R18 E-tron Quattro LMP1 race car and then promised a production version of it at this year's Consumer Electronics Show. The eyes on the R8 LMX employ the same method when traveling above 37.3 miles per hour, utilizing a tiny laser module in each headlight that, after conversion to white light, can throw a beam about 1,640 feet down the road.
Because no one should ever stop at lasers, buyers of the limited-to-99 examples of the R8 LMX will also get a more powerful engine, with 570 horsepower erupting from the mid-mounted V10; that's ten more horses than came with the R8 V10 GT introduced last year, but the 0-62 mile-per-hour time hasn't budged from 3.4 seconds. It comes in coupe form only, dressed in Ara Blue paint with carbon accents all around, exclusive wheels, red brake calipers, and a black Nappa leather interior with contrasting blue bits.
Click here to read the entire article >>
Author: