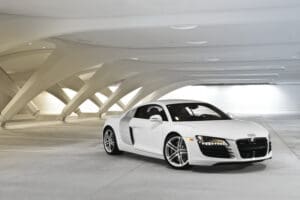 Audi will build on its record-setting performance in the U.S. market with a new President to lead Audi of America.
Scott Keogh will assume the top leadership role for Audi brand activities across the U.S. effective immediately. Keogh comes into the job with experience of six years as Chief Marketing Officer at Audi of America. In that position, he led all product planning for the U.S. market in addition to award-winning marketing and advertising campaigns that helped Audi of America achieve record levels of consumer awareness and consideration.
A strong advocate for Audi performance and efficiency engineering, Keogh helped steer the introduction of Audi TDI clean diesel technology to the U.S. market by positioning it as a social cause rather than a mere engine variant. He developed the strategy to re-introduce RS performance models, including the new RS 5 coupe coming to dealerships this year, to the American premium sports car segment. Keogh also advocated for the return this year of the iconic Audi allroad, as part of a strategy that has resulted in 14 new Audi model launches for American consumers since 2006.
Among the Audi brand accomplishments led by Keogh – each with its own portion of risk and unconventional thinking for the segment – have been early awareness-building exercises such as the Truth in 24 documentaries about the Audi dominance at the 24 Hours of Le Mans endurance race; bold Super Bowl advertising; a significant push into social media; and integration of Audi into blockbuster Hollywood productions, such as the Iron Man movie series.
The Audi brand has established sales records over the past 17 consecutive months, culminating in an all-time annual record of 117,561 premium performance models sold nationwide in 2011. That topped the previous annual sales record of 101,629 Audi vehicles sold in the U.S. market just one year earlier.
"We see exceptional growth opportunity in the U.S. market as we continue moving toward our goal of positioning Audi as the leading luxury automotive brand in the world by 2020," said Rupert Stadler, AUDI AG Chairman and Chief Executive Officer. "Gains in the U.S. are truly a strategic pillar for the brand and we are confident that the leadership provided by Scott Keogh will continue the momentum at Audi of America."
Audi of America has shown momentum across its businesses. Consumer awareness and consideration are at an all-time high level thanks to Audi of America marketing and media activities. Audi Parts and Accessories sales reached record levels in 2011, and are poised to eclipse those results in 2012. Audi Certified pre-owned sales achieved record numbers in 2011, as well. The 278 Audi dealer partners in the U.S. are seeing record returns on sales on average, and the brand demonstrated solid profitability in the U.S. last year.
"Audi has demonstrated remarkable progress in recent years," Keogh said today at Audi of America headquarters in Herndon. "There is much work to be done in a highly competitive segment of the auto business. But the sights are set and the team is in place to meet our goals."
As the next Audi of America President, Keogh replaces Johan de Nysschen who led the organization over the past 7 ½ years in an Audi career that spanned nearly 20 years.
ABOUT AUDI
Audi of America, Inc. and its U.S. dealers offer a full line of German-engineered luxury vehicles. AUDI AG is among the most successful luxury automotive brands globally. Audi was a top-performing luxury brand in Europe during 2011, and broke all-time company sales records in the U.S. Through 2016, AUDI AG will invest about $17 billion on new products and technologies. Visit www.audiusa.com or www.audiusanews.com for more information regarding Audi vehicle and business issues.
Author: