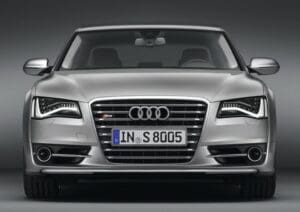 2012 car and SUV sales surpass the mark set in 2011, to establish the third-consecutive year of record results
Audi today reported it has achieved a new annual sales record in the U.S. market with 120,420 new vehicles moved into customers' hands at the start of this week. The brand set its previous full-year record of 117,561 vehicle sales last year.
"Setting a record with five weeks to go in the year demonstrates how effectively our strategy is working in this market," said Scott Keogh, President, Audi of America. "Our steady sales performance in recent years began with significant investments in new models and technologies. But it is also the result of significant investments by dealers nationwide to enhance the Audi experience in their showrooms."
This marks the third-straight year of record annual sales in the U.S. market for Audi.
Last month, Audi established its 22nd consecutive month of record sales with the brand continuing to show strength at the top of the luxury market. Sales of the Audi A8, A7, A6 and Q7 now constitute nearly 32% of Audi sales in the U.S. compared to 19% just three years ago. Audi is also seeing strong demand for the newly introduced S6, S7 and S8 models at the high-end of the luxury performance sector.
Official November sales numbers will be released the first week of December, after Audi introduces the new Audi A6 TDI, A7 TDI, A8 TDI and Q5 TDI at the Los Angeles Auto Show.

ABOUT AUDI
Audi of America, Inc. and its U.S. dealers offer a full line of German-engineered luxury vehicles. AUDI AG is among the most successful luxury automotive brands globally. Audi was a top-performing luxury brand in Europe during 2011, and broke all-time company sales records in the U.S. AUDI AG is planning to invest a total of EUR 13 billion over the period 2012 through 2016 on new products and technologies. Visit www.audiusa.com or www.audiusanews.com for more information regarding Audi vehicle and business issues.
Author: