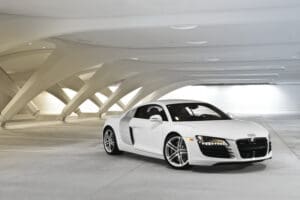 LAcarGUY's new dealership in Torrance, CA will be among the greenest; features the largest Audi showroom in the U.S. showcasing 17 models
Audi of America, in coordination with LAcarGUY, will celebrate the grand opening of the newly redesigned Audi Pacific dealership on Tuesday, November 27. The new dealership will become the largest Audi showroom in the U.S. showcasing 17 models and is the first to be LEED Gold certified incorporating a state-of-the-art design with environmental technology aimed at improving energy efficiency, reducing water usage, as well as promoting the reuse and recycling of materials and waste. The new location marks one of 11 dealerships within the LAcarGUY family, headed by Mike Sullivan.
"Audi remains steadfast in its commitment to advancing green technology and environmentally responsible business practices," said Mike Cagle, Director, Western Region for Audi of America. "Through the opening of Audi Pacific, we not only celebrate the largest Audi showroom in the United States, but also take great pride in achieving LEED Gold certification."
LEED (Leadership in Energy and Environmental Design) is an internationally recognized green building certification process promoted by the U.S. Green Building Council to assess the sustainability of a building's design, construction and operations. To meet LEED Gold certification, the Audi Pacific dealership features energy efficient water fixtures, low energy use lighting and a 45 kilowatt (kW) DC Solar PV system.
The owner of Audi Pacific and President of LAcarGUY, Mike Sullivan has been in the car business for over 45 years and also serves on the board of Heal The Bay and the Environmental Media Association as well as the Regional Board of Directors for Global Green USA. Having owned this Audi franchise since October of 1999, Sullivan became the first to build an Audi Hangar in California. To continue his encouragment in the adoption of electric vehicles, LAcarGUY recently became the first automotive dealer in the country to offer electric charging stations open to the public at four of its dealerships.
"The LAcarGUY family of dealerships has long been committed to promoting sustainable, greener business operations and supporting environmental initiatives," said Sullivan. "Our new Audi Pacific dealership facility exemplifies our leadership and focus on ecology, economy and social responsibility across the board."
General Manager and LAcarGUY business partner Jeff LaPlant will oversee the newly redesigned space which has expanded from 14,000 to 45,000 square feet allowing the dealership to better serve their customers with the expanded capacity and convenience within a compelling environment. The new dealership also follows the new Audi "terminal" design, an ecologically advanced construction method promoted by the Audi's parent company in Germany. The structure makes an impressive architectural statement on Hawthorne Boulevard, with bold signage and an open two-story showroom, as well as 22 service bays showcasing the brand's latest collection of luxury vehicles.
"Audi Pacific is very proud to be the first LEED Gold certified dealership for the Audi brand," said LaPlant. "Environmental stewardship is very much in line with Audi Pacific's overall business philosophy, commitment to exceptional and award-winning customer service, as well as focus on selling some of the most innovative, quality-engineered luxury products on the market today."
Audi of America maintains a regional office, two technical facilities and a design center in California to better identify with and service the state's strategically vital and diverse market. Since 2011, sales in the area have increased by 21.9% and represent 19.2% of total U.S. sales. Other noteworthy accomplishments for Audi in California include an increase in IHG market share from 5.56% in 2006 to 10.1% in 2012, effectively doubling the brand's presence in the state. The Audi Pacific dealership opening marks the brand's continued expansion and strong presence in the Southern California market.
Audi Pacific is located in the City of Torrance at 20460 Hawthorne Boulevard. For more information please visit www.audiusa.com, www.audiusanews.com or call 310-526-8692.

ABOUT AUDI
Audi of America, Inc. and its U.S. dealers offer a full line of German-engineered luxury vehicles. AUDI AG is among the most successful luxury automotive brands globally. Audi was a top-performing luxury brand in Europe during 2011, and broke all-time company sales records in the U.S. Through 2016, AUDI AG will invest about $17 billion on new products and technologies. Visit www.audiusa.com or www.audiusanews.com for more information regarding Audi vehicle and business issues.
ABOUT LAcarGUY
The LAcarGUY family of dealerships has been a Los Angeles fixture since "Sully" Sullivan opened its first dealership, Volkswagen Santa Monica in 1964. Today, LAcarGUY includes 11 award-winning dealerships throughout Los Angeles and a state-of-the-art body shop. As a local family-owned business, LAcarGUY is recognized as a prominent supporter of community events, charitable organizations and environmental causes. Among the top dealers of hybrid cars in the world, LAcarGUY is proud to lead the industry into a greener automotive future. Visit www.lacarguy.com for more information.
Author: