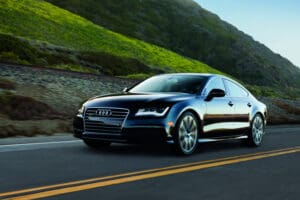 DETROIT — The Autoweek editors spend so much time behind so many steering wheels that it takes a special car or truck to stand out from the pack. This year, the Audi A7 and the Land Rover Range Rover Evoque did just that, and they have been named Autoweek's Best of the Best/Car and Truck for 2012.
"With the A7, Audi has crafted a vehicle with few true peers by starting with stunning luxury-sedan design and marrying that to the functionality of a hatchback," said Autoweek Editor Wes Raynal.
"The Evoque retains the luxury, refinement and off-road capability we've come to expect from Land Rover, combined with compact dimensions, carlike ride and efficiency that redefine the brand."
Editors graded vehicles on drivetrain, ride quality, handling, exterior, interior design and fun factor. Points were tallied for each vehicle, and the car or truck garnering the most points took the win.
To be eligible for Autoweek's Best of the Best honors, a vehicle had to be completely or substantially new – minor facelifts or mechanical updates didn't count – and available to the general public. The Best of the Best process begins each January, with models unavailable at the end of the calendar year eligible for the following year's contest.
Cars were defined as sedans, coupes, convertibles, hatchbacks and wagons, while trucks included classic pickups, crossovers, minivans and SUVs. Among the finalists were the Ford Focus, the Mercedes-Benz CLS, the Mercedes-Benz ML350 and the BMW X3.
The A7 and the Evoque were selected under the radar, without any manufacturer knowledge. No automaker saw the results, lobbied or provided specially prepped test vehicles.
Audi and Land Rover will be presented with their Best of the Best awards at Detroit's North American International Auto Show in early January, with the A7 and the Evoque featured in the Jan. 9 edition of Autoweek.
Autoweek, launched in 1958, based in Detroit, Mich., and published by Crain Communications Inc., is a fortnightly magazine of consumer car news, information and insight. It's also delivered via the Internet (autoweek.com) and the iPad, and through video and social media. The autoweek.com site includes Daily Drive, an e-mail newsletter sent to more than 100,000 registrants; Car Life, a social community, and Autoweek TV, a daily video newscast. The Autoweek iPhone app Car News & Reviews is the first free app built for serious enthusiasts. From a magazine to video, online, podcasts, events, mobile applications and social media, Autoweek is a must-have for those who live the automotive lifestyle. Follow Autoweek on Facebook (facebook.com/autoweekusa) and Twitter (@autoweekUSA).
Author: