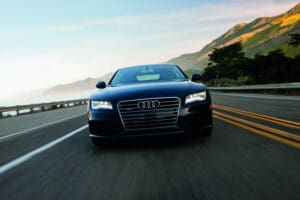 HERNDON, Va. — With just over a month remaining in 2011, Audi of America achieved a new annual sales record over the hectic holiday shopping weekend. With 102,055 sales of premium cars and SUVs already reported this year, the Audi brand eclipsed the previous sales record of 101,629 set at the end of 2010.
Audi set sales records in each of the first 10 months of this year with a November record expected later this week
Sales through the Thanksgiving weekend stood at 102,055 vehicles with more than a month to go in 2011
Audi Certified pre-owned sales also set an annual record, beating the mark set in 2008
Audi also established a new annual record with its Certified pre-owned sales. Audi CPO sales through the end of the Thanksgiving weekend totaled 33,102 vehicles, up 32% from a year earlier. The previous annual sales record for Audi CPO business was 32,108 vehicles sold in 2008.
The record set for new car annual sales marks the second time the Audi brand has topped the 100,000 mark since it established its U.S. business more than 41 years ago. Audi momentum has been evident throughout the year as sales set new records in every month of the year to date. Audi expects to register its 11th record month of 2011 when full November sales totals are reported later this week.
"The Audi momentum story began a few years ago with the restructuring of our U.S. business model and the steady arrival of exciting new models that have captured the imagination of the American premium car customer," said Johan de Nysschen, President, Audi of America. "Through precarious economic conditions, we have held fast to this plan along with our dealers who have devoted record levels of investments in their franchises."
ABOUT AUDI
Audi of America, Inc. and its U.S. dealers offer a full line of German-engineered luxury vehicles. AUDI AG is among the most successful luxury automotive brands globally. During 2010 Audi was the top performing luxury brand in Europe, and broke all-time company sales records in the U.S. Over the next few years, AUDI AG will invest nearly $16 billion on new products and technologies. Visit www.audiusa.com or www.audiusanews.com for more information regarding Audi vehicles and business issues.
Author: