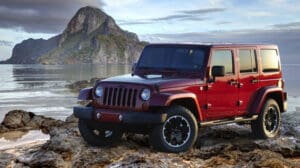 According to Ricky Beggs, Senior Analyst at Black Book, with 2013 models now at dealerships, the used-car birthdays have officially taken place among segments. Following is a breakdown of the top percentage changes for prices as 2011 model-year vehicles are added into the mix.
For cars, entry-level models like the 2011 Honda Fit and Toyota Yarisshowed the weakest price increase at 15.6%. Prestige luxury cars like the BMW 7 Series and the Audi A8 showed the most strength at 24.4%.
"The opposite rang true for truck segments as compact SUVs like Jeep Wrangler and Nissan Xterrashowed the most strength at 27.4%," said Ricky Beggs, Senior Analyst at Black Book. Luxury SUVs (19.1%) and full-size SUVs (19.0%) were farther down the list. Full-size CUVs like the Buick Enclave and Cadillac SRX were at the bottom showing a 10.6% increase.
| | | | |
| --- | --- | --- | --- |
| Car Segments | Values Through 2010 | Values Through 2011 | % Change |
| Prestige Luxury | $23,300 | $28,387 | 24.4% |
| Luxury Level Car | $13,770 | $17,003 | 23.5% |
| Near Luxury Car | $10,719 | $12,845 | 19.8% |
| Upper Mid-Size Car | $8,117 | $9,662 | 19.0% |
| Compact Car | $6,480 | $7,710 | 19.0% |
| Full-Size Car | $7,765 | $9,231 | 18.8% |
| Entry Mid-Size Car | $6,909 | $8,145 | 17.8% |
| Sporty Car | $14,541 | $16,987 | 16.8% |
| Premium Sporty | $36,013 | $41,756 | 16.0% |
| Entry-Level Car | $5,852 | $6,767 | 15.6% |
| | | | |
| --- | --- | --- | --- |
| Truck Segments | Values Through 2010 | Values Through 2011 | % Change |
| Compact SUV | $9,695 | $12,350 | 27.4% |
| Mini Van Cargo | $4,392 | $5,512 | 25.5% |
| Full-Size Van Cargo | $9,220 | $11,294 | 22.5% |
| Compact CUV | $9,966 | $12,055 | 21.0% |
| Full-Size Van Wagon | $9,480 | $11,381 | 20.1% |
| Mid-Size SUV | $10,737 | $12,838 | 19.6% |
| Mid-Size CUV | $13,793 | $16,466 | 19.4% |
| Luxury SUV | $24,196 | $28,813 | 19.1% |
| Full-Size SUV | $13,974 | $16,630 | 19.0% |
| Mini Van Wagon | $7,372 | $8,764 | 18.9% |
| Compact Pickup | $9,492 | $10,727 | 13.0% |
| Full-Size Pickup | $14,026 | $15,735 | 12.2% |
| Mid-Size Pickup | $11,614 | $12,869 | 10.8% |
| Full-Size CUV | $20,272 | $22,431 | 10.6% |
Author: