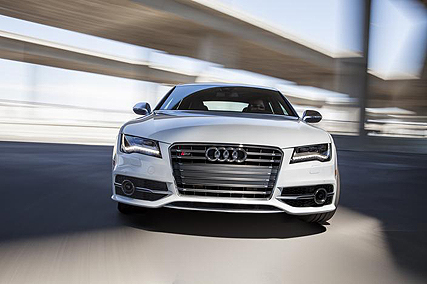 Car & Driver magazine just named the Audi A6, S6 and A7 sedans to its list of "10 Best Cars for 2014" and wanted to include Audi S7 as well.
"There are no-compromise sports cars and no-compromise luxury cars, but those sports cars typically compromise on comfort, and those luxury cars frequently compromise on performance," the magazine's editors wrote. "The Audis are genuine no-compromise cars: They don't just offer something for everyone, they offer everything for anyone who can afford it."
And in that way, Car & Driver's evaluation of the Audi A6, S6, A7 and S7 seemed to ring an endorsement of the entire Audi brand and its approach to its vehicles. Editors for example, endorsed the MMI infotainment system in these cars – essentially the same one as in all Audi vehicles – as one that "sets the standard for the rest of the industry."
Car & Driver broadly praised the A6-S7 lineup, saying that the cars are "as crisply designed as they are engineered," bearing "deceptively simple exterior styling" and with interiors that lend "the impression that Audi is somehow budgeting three to five times more on materials than its competitors."
The evaluation also noted that the Audi S6 was "quicker even than the new [Chevrolet] Corvette" in the magazine's tests of speed off the mark, hurling the car to 60 mph in just 3.7 seconds, in Car & Driver's timing.
Editors made special mention of the cars' behavior in more normal circumstances as well, calling them "as serene as a suite at the Four Seasons" in highway-cruising mode and yet demonstrating "exemplary steering and body control" in more driver-stressing moments.
"No matter the task, an overwhelming sense of solidity and unflappability pervades every move these Audis make."
And why didn't Car & Driver officially include the Audi S7 in its list along with the other three nameplates that make up the tightly clustered sedan family? Only because the price of S7 squeaked over the magazine's $80,000 price cap for the list.
Author: