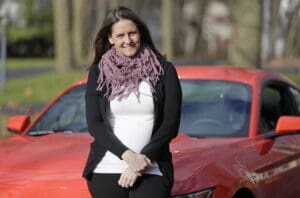 As family dealership owner, she's the top 'nice guy' at Soerens Ford, from Milwaukee-Wisconsin Journal Sentinel.
A family Ford dealership here is owned by a "nice guy" who just gave birth to her third child.
As the fourth-generation owner of Soerens Ford, Stephanie Soerens-Borkowski holds a spot in a growing demographic in the U.S. new vehicle business. She is a woman who is the dealer principal, also known as the boss.
Soerens-Borkowski has taken over leadership of Soerens Ford, a nearly 100-year-old dealership known to generations of Milwaukeeans by the tagline in its advertisements, the "Home of the Nice Guys."
She has taken over for her dad, Bob Soerens, who now serves as a consultant to the dealership. ("Every once in a while, I still get consulted," he said.)
Click here to read the entire article >>
Author: