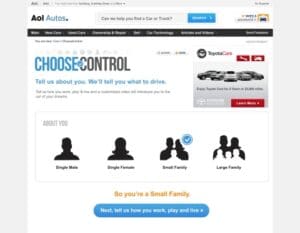 "ChooseControl" Matches Consumers with Cars through Social Demographics and Innovative Search Technology
NEW YORK — As the automotive industry continues to post its highest sales since 2005, AOL Autos and Toyota today announced the launch of a next-generation online search tool that helps consumers find the perfect car for their lifestyle. Whether someone has young children, wants to go green, participate in outdoor sports or has an icy commute in colder months, "ChooseControl" (http://autos.aol.com/choosecontrol/) allows a potential car buyer to search for automobiles based on the largest range of social demographics currently available. The tool also incorporates dynamic and customized video into the experience to help the car buyer visualize how the vehicle matches their unique lifestyle.
"For the first time since the U.S. recession, consumers are headed back to automotive dealerships in droves," said David Kiley, editor-in-chief of AOL Autos. "As they consider their first new car purchase in years, consumers need help navigating the explosion of new options and technologies that greet them. ChooseControl goes well beyond traditional auto search parameters to help consumers select an automobile perfectly tailored to their unique needs—before they even visit a car lot to take a test drive."
The launch of ChooseControl represents the first time a creative brand company like AOL has teamed with an automaker to deliver this type of robust search tool to consumers; Toyota will serve as the product's initial sponsor and launch partner. ChooseControl will also include search results from every major car manufacturer in the industry, ensuring that consumers have the most extensive range of options available to meet their needs.
"This is truly the smartest car configurator available on the Web," said Tim Armstrong, Chairman & CEO of AOL. "ChooseControl marries AOL's technical vision and deep understanding of consumer online behavior with Toyota's expertise around consumer car buying preferences to put an incredible amount of information and decision-making power at consumers' fingertips."
"The vast array of options available to automotive buyers today can make the purchase experience overwhelming for consumers, particularly those who have been out of the market for a while," said Dionne Colvin, National Media Marketing Manager, Toyota Motor Sales, Inc. USA. "We are thrilled to partner with AOL to bring consumers a new tool that will change the way people shop for cars, making it a more personal and efficient experience."
"Consumers are looking for information when shopping, with more and more buyers headed to both OEM and third party web sites. The ChooseControl configurator will play an important role in the research that goes into a new vehicle purchase," said John Lisko, Executive Communications Director, Saatchi & Saatchi LA. "This new tool in the automotive landscape will change the way consumers shop for their next car, and we're proud to have strategically worked with AOL on the development from conception to completion."
Broken down into search options that include definitive lifestyle parameters, consumers can narrow their auto search by:
About You (Single Male or Female, Small or Large Family)
Work (Executive, Hard Worker, Long Commute)
Play (Outdoors, Gardening/Home, Music, Shopping, Travel, Tech/Info)
Live (Big & Tall, Eco-Friendly, Inclement Weather, Pets)
In addition to a broad set of search parameters, the use of original video also makes ChooseControl distinct in the marketplace. As car shoppers input their social demographic criteria, the tool creates a personalized vignette of how the car will accommodate their specific lifestyle. For example, an avid skier may see a video of how his skis will load onto the roof rack of the specific car that has been recommended. More than 600,000 video combinations were created by StudioNow, part of AOL's Advertising.com Group, which enables companies to create, manage and syndicate high-quality online videos by tapping into our network of nearly 5,000 videographers around the world. In addition, AOL Autos will integrate ChooseControl into its Facebook page, offering consumers the tool's full functionality as they begin a car search.
About AOL:
AOL Inc. (NYSE: AOL) is a brand company, committed to continuously innovating, growing, and investing in brands and experiences that inform, entertain, and connect the world. The home of a world-class collection of premium brands, AOL creates original content that engages audiences on a local and global scale. We help marketers connect with these audiences through effective and engaging digital advertising solutions.
About Toyota:
Toyota Motor Sales (TMS), U.S.A., Inc. is the marketing, sales, distribution and customer service arm of Toyota, Lexus and Scion. Established in 1957, TMS markets products and services through a network of nearly 1,500 Toyota, Lexus and Scion dealers which sold more than 1.64 million vehicles in 2011. Toyota directly employs nearly 30,000 people in the U.S. and its investment here is currently valued at more than $18 billion. For more information about Toyota, visit www.toyota.com or www.toyotanewsroom.com.
Author: