SEM is a great way to drive traffic to your website and measure tangible results. In this session, you will learn to keep score using three key metrics. You will learn how to hold your SEM partner accountable for tangible results, just like your third-party lead/media providers. And, you will take home conversion tools that will measure impression-to-sold results to make a $300,000 difference per year to the bottom line. Michael Groves is sharing his expertise with you.
What will you learn and what action items will you take back to the dealership?
1. Learn to keep score. You'll learn about three key metrics to watch weekly in order to improve your Ad words campaign results and you'll learn useful strategies to improve each metric.
2. Learn how to hold your SEM partner accountable for tangible results just like your third-party lead/media providers.
3. Learn how to measure results from Ad Words campaigns to sold cars that can make a difference of over $300,000 per year to your bottom line.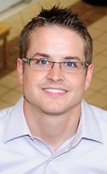 Michael Groves is the e-commerce director for the Apple Auto Group and was featured on the cover of Digital Dealer Magazine in July 2012. Teamwork, forward thinking in digital marketing, and focus on customer excellence have propelled Apple Auto Group's Internet sales from 75 per month to over 200 per month in just three years. In 2011 Apple Auto Group's flagship, Apple Valley Ford Lincoln, was rated Number 47 nationwide on Ford's eCommerce Elite list – having progressed from being among the top 400 Ford eCommerce Elite in 2007. Groves is a young leader in the industry with 7 ½ years of experience in SEM, targeted marketing strategies, retention, video, reputation management, social media, and most important customer communication at the bottom of the funnel using BDC process and lead conversion.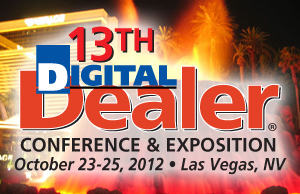 A 13th Digital Dealer® Conference & Exposition Featured Speaker: Michael Groves presents:  SEM: $300,000 Difference Per Year to the Bottom Line — Learn how to keep score using key metrics and you will change the score.
We're building out the agenda, selecting speakers and topics for more than 100 sessions that are laser-focused on all things digital.
The Digital Dealer Conference & Exposition is the premier educational conference and expo dedicated to Internet and technology solutions for automotive professionals. Digital Dealer events deliver the largest array of speakers, peer to peer opportunities, and exhibit hall offerings – all carefully designed to impart cutting edge business strategies. With an audience of the industry's most progressive dealers and managers and the most innovative conference format, Digital Dealer provides the ultimate learning and networking environment.
For more information, visit:  www.DigitalDealerConference.com
Author: