Bill Fox, the owner of the Fox Dealerships, is the 2015 National AutomobileDealers Association Chairman.
He and his sister Jane are partners in the group, which they started in 1976 by purchasing a small Chevrolet store. Since then, the New York-based company has added eight brands and is now comprised of four dealerships.
Since 2006, Fox has served on various committees for NADA including Chairman of the association's Regulatory Affairs Committee last year, previously as the finance Chairman of its Dealers Election Action Committee.
Fox has also been a mainstay on the New York State Automobile Dealers Association board, serving as the Central New York representative on its board of directors for 15 years and as its Vice-Chairman last year.
An exclusive Dealer magazine interview with NADA Chairman, Bill Fox.
Bill, first of all, congratulations on being elected Chairman of the National Automobile Dealers Association. How did you get started in the business?
Thank you. It is an honor.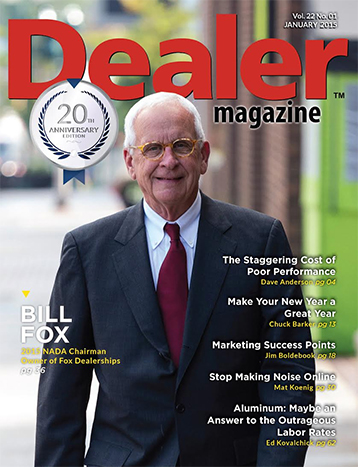 As you can probably guess, I got my start several years ago. It was about 39 years ago when my family started in the retail automobile business. My sister and I pooled our money together and purchased a small Chevrolet dealership in Weedsport, N.Y., in 1976 and turned it into a success.
Over the years, we acquired additional franchises. Today, I am a Partner, along with my sister, at Fox Dealerships. We operate four dealerships in the upstate New York cities of Auburn and Phoenix. We sell and service Chevrolet, Chrysler, Dodge, Honda, Jeep, Ram, Scion, Subaru and Toyota brand vehicles. We employ 180 people who have been key to our long-term success. Nearly 60 percent of our employees have been with the company for five years or longer.
I do want to say that it's a true honor to serve this industry and the NADA Board of Directors. This is an exciting time in the auto industry and for new-car dealers across the country. I'm looking forward to this year. We will continue to advocate strongly for dealers and the franchise system, which is the best and most efficient model for consumers, dealers and manufacturers alike.
You also played basketball for Georgetown University. How do you like the team this year? And how hard has it been living in Syracuse territory the last several years?
It was a great privilege to play basketball at Georgetown for four years. I still follow the team regularly, and I'm a big supporter of the program. They have a young team this year. Their coach John Thompson, III, is a great leader and a role model. As for Syracuse, I was probably the only fan who rooted against them at a recent game in the Carrier Dome.
What effect did that experience have on you as a business owner/leader?
I would describe my management style as being team driven and some of that goes back to basketball. It's a lifelong lesson that has served me well.
How long have you been involved with NADA?
It was a past NADA board member representing the state of New York that encouraged me to get involved with NADA, so I decided to run for a seat on NADA's Board of Directors. I was elected in 2006, and since then have served on various NADA committees. Of course, as you know, I was elected Vice Chairman for 2014.
What convinced you that it was important to get involved and ultimately serve in a leadership role?
When I think about it, it was the events from the past several years that the industry went through collectively that convinced me. It was a painful time — the credit crisis, subsequent automaker bankruptcies and the Great Recession. These calamities resulted in several dire economic and industry issues as well as legislative and regulatory challenges affecting dealers.
This is when I realized how important NADA is to dealers across the country. I wanted to step up and contribute time and effort to help. And certainly, as Chairman, I would like to make a contribution to ensure that NADA continues to be the voice of the dealer and do what we can to shape the future of this industry so that the next generation of dealers has the same or better opportunities than we've enjoyed.
Despite the occasional tough times, this is a great industry and I want to help make sure that continues.
The franchise system is undergoing a transition today – some changes are good – others, not so good, perhaps. Where can the dealership franchise system improve?
You've seen the news and the stories where automotive franchise laws have been at the forefront of the public debate in several states across the country.
But what often gets lost in the coverage is the simple reason why auto manufacturers choose franchised dealers to sell new cars—the dealer retail network is and will continue to be the most competitive, cost-effective and proconsumer way of buying and selling new vehicles anywhere.
New-car dealers have been at the forefront and catalysts for change. Dealers have survived wars, recessions, depressions, oil embargoes and automaker bankruptcies. We survived all that because we confronted the challenges and adapted to change. Changes in automotive retailing are driven in part by the demands our customers and advances in technology. We're always looking for ways to improve. That's a constant.
Still, the franchise system is what's best for customers. I would encourage dealers to become familiar with the NADA's "Get The Facts" initiative which is designed to inform policymakers, opinion leaders and the media about the numerous benefits of the dealer franchise network through a variety of multimedia resources and videos available at www.nada.org/GetTheFacts.
The dealership ownership dynamic is changing. Warren Buffett's entrance, private equity groups gaining access at the ownership level – what does NADA need to do to keep up with these types of changes?
We all know consolidation is going on and that will continue, but if you look at the numbers, nearly 96 percent of the 17,800-plus individual franchised new-car dealerships in the United States are locally and privately owned. Selling cars is still an entrepreneurial business.
Having said that, NADA represents dealerships of all sizes—from multigenerational family-owned businesses to publically held dealer groups. NADA's Board of Directors is diverse with 63 member-dealers. We meet regularly throughout the year to discuss changes in the industry.
Don't forget about all of the non-competing dealers that participate in hundreds of NADA 20 Group meetings each year sharing ideas and best practices to make their dealerships more efficient and competitive. So we have a system in place that helps us keep up with the changing needs of the industry.
Over the next year, what do you see as being the biggest challenges for dealers – from NADA's perspective? And what can NADA do to push back against those challenges?
Great question. Certainly, preserving the ability of new-car dealers to offer competitive financing terms to their customers remains one of NADA's top priorities. The CFPB's disparate impact initiative threatens this ability, and NADA will continue to inform both regulators and legislators on the need for an approach to fair credit compliance that achieves its goals while preserving the benefits of robust competition in the marketplace. As part of this process, we support legislation that would rescind the CFPB's flawed guidance on auto finance and will keep auto loans affordable and accessible for car buyers. In the last session of Congress, this legislation was broadly supported with nearly 150 bipartisan cosponsors in the U.S. House of Representatives, and we expect this to be a major effort in 2015.
Another big issue for us is the incentive programs automakers design for their dealers. We'll continue to urge manufacturers to develop programs that are fair and available to all dealers, regardless of sales volume and dealership location.
Over the last five years, what would you say is NADA's biggest success?
I think we've had quite a few successes, including many we don't talk about much. NADA does do a lot of high profile work that we see in the news, but also a lot of work that NADA does which is just as important goes totally underneath the radar.
I would say the No. 1 public policy success was our grass roots efforts to secure a dealer exclusion from the authority of the Consumer Financial Protection Bureau in the Dodd-Frank Act of 2010. This effort, coupled with our vigorous defense of the highly-efficient dealer assisted financing model during the 2011 Federal Trade Commission motor vehicle roundtables, has been indispensable to countering attempts to transform our pro-competitive model in a way that would be harmful to both consumers and small businesses. That's a high profile success we all know about.
Another critical but much quieter success was NADA's ability to secure from the Treasury Department and the IRS critical safe harbors for dealers concerning the Uniform Capitalization (UNICAP) requirements, which favorably resolved several contentious and very costly income tax issues that arose in audits during the preceding years.
Speaking as a dealer and not so much as NADA's chairman, what changes are you preparing your business for that you think will occur over the next few years?
Change is everywhere and it's never ending. We need to recognize change and adapt to it while providing value to our customers. We'll never succeed on nostalgia or loyalty. Technology will always continue to evolve, but our success will always be measured by how well we take care of our customers.
Author: