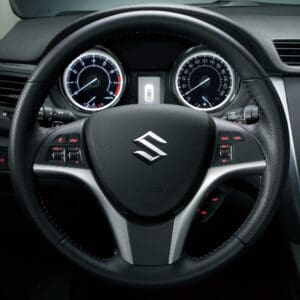 Dealers representing all of the top 50 and more than 98% of the total volume of ASMC's continental U.S. automobile sales agree to transition to parts and services operations
BREA, Calif. — American Suzuki Motor Corporation ("ASMC" or "the Company") today announced that, as of the early return deadline of November 30, 2012, 213 of the 219 Automotive dealers have agreed to the terms of ASMC's Dealer Settlement Agreements as part of ASMC's previously-announced restructuring and realignment. These agreements are intended to compensate dealers and enable them to transition uninterrupted from automobile sales to provide critical warranty and service repair work and parts for hundreds of thousands of Suzuki automobile owners. The final return deadline for ASMC Dealer Settlement Agreements, all of which are subject to Bankruptcy Court approval, is December 28, 2012.
"We are pleased to have reached agreements with all of our top 50 Automotive dealers and that the total number of acceptances represents more than 98% of the total volume of automobile sales for ASMC in the continental U.S.," said M. Freddie Reiss, ASMC's Chief Restructuring Officer. "We greatly value our relationship with our customers, and it is very important to us that they continue to receive the necessary support from ASMC during and after our restructuring. As these agreements demonstrate, we are working within our current U.S. Automotive dealer network to help structure a smooth transition from new automobile sales to exclusively parts and service operations. Based on dealer acceptances, we continue to believe our restructuring and realignment will be completed in a timely manner."
As previously announced, ASMC intends to market and sell its remaining U.S. automobile inventory through its automotive dealer network, many of whom have expressed interest in continuing to order and receive shipments of Suzuki automobiles as long as they remain available. ASMC continues to provide marketing and incentives to help promote the continued sale of the automobiles remaining in dealer inventory and the pipeline. All automobile warranties will continue to be fully honored, in accordance with their terms, and parts and service will continue to be provided to consumers through ASMC's parts and service dealer network.
ASMC announced on November 5, 2012, that it plans to realign its business to focus on the long-term growth of its Motorcycles/ATV and Marine divisions and to wind down and discontinue new automobile sales in the continental U.S., following a thorough review of its current position and future opportunities in the U.S. automotive market. ASMC determined that the best path to achieve this realignment in an efficient and orderly manner was to restructure its operations under chapter 11. The case was filed in the United States Bankruptcy Court, Central District of California in Santa Ana.
Additional information regarding ASMC's business realignment can be found at the Company's website, www.suzuki.com or via an information hotline at 1-877-465-4819.
Author: