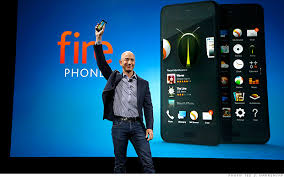 Amazon unveils 3-D Fire phone, according to CNN.
Amazon entered the smartphone business Wednesday — and made a big splash doing it.
At an event in Seattle, the retail giant unveiled the Fire Phone, a high-end, 3-D smartphone. It is the first smartphone Amazon (AMZN, Tech30) has produced on its own.
"Can we build a better phone for our most engaged customers?" asked Amazon CEO Jeff Bezos at the event. "Can we build a better phone for Amazon Prime members? Well, I'm excited to tell you that the answer is yes."
Display: The Fire Phone has a 3-D, 4.7-inch high-definition display. It uses infrared lights and cameras mounted on the phone's surface to track a user's head movements and render images accordingly.
Bezos compared the Fire Phone's 3-D feature to the introduction of geometric perspective and the vanishing point in 14th century artworks.
Click here to read the entire article >>
Author: