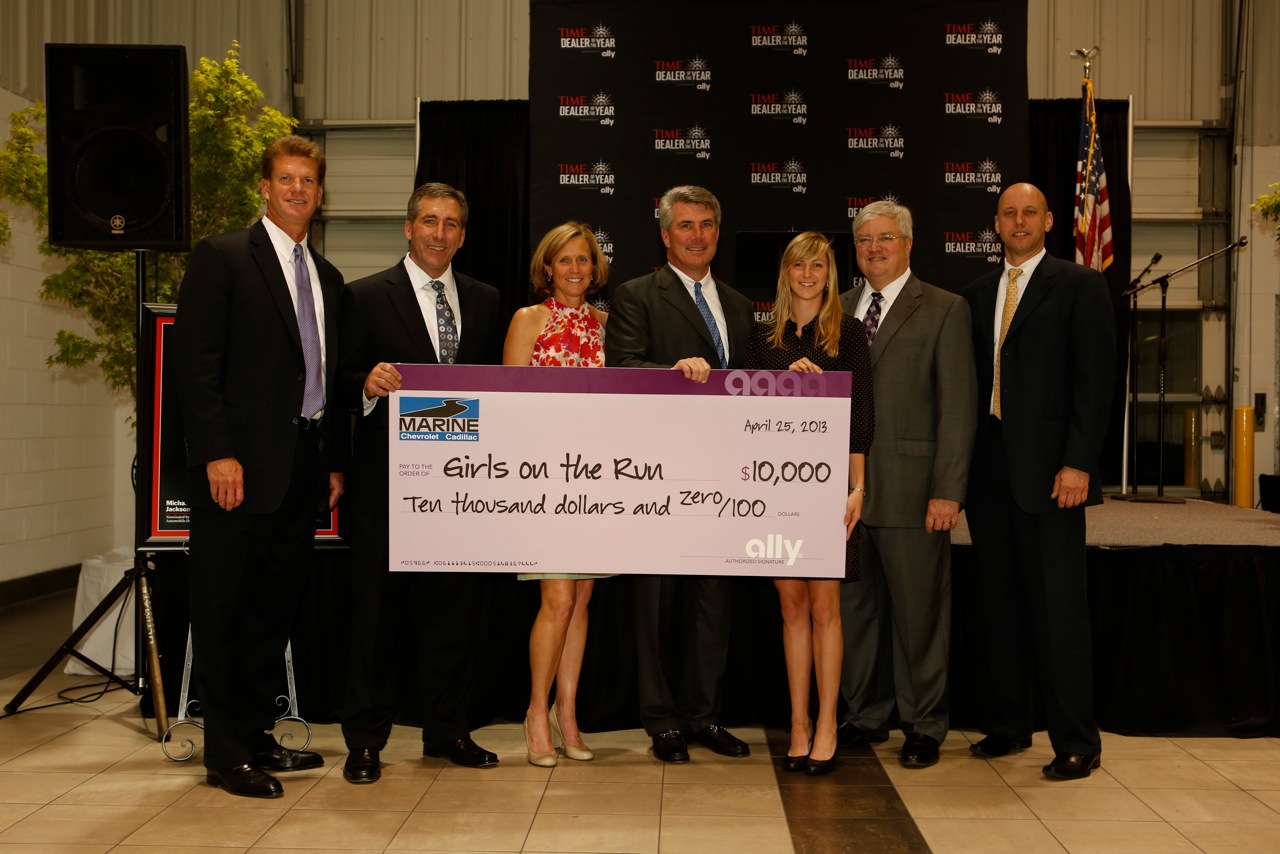 JACKSONVILLE, N.C. – Ally Financial recently honored Michael Alford of Marine Chevrolet Cadillac as the 2013 TIME Dealer of the Year winner and presented a charitable grant to support his efforts in the local community.
Ally executives were on hand for a celebration in Jacksonville, N.C. to present the $10,000 winner's grant to Alford's charity of choice, Girls on the Run. A transformational learning program for students in 3rd through 8th grade, Girls on the Run teaches life skills through dynamic, conversation-based lessons and running games. The grant from Ally will enable 225 local students to participate in the program that otherwise may not have been able to financially.
"At Ally, we witness dealers as community service heroes every day. We want to showcase the good they do in hopes that it inspires all of us to do more for those that need help," said Tim Russi, president of Auto Finance for Ally Financial. "Ally has provided more than 100 grants to nonprofit organizations in connection with TIME Dealer of the Year program. We are grateful to be able to support the local causes of these generous individuals."
In addition to the winner's grant, this year Ally provided additional $5,000 grants to support charities chosen by the three finalists. Sam Mansker of Olathe Ford Lincoln in Olathe Kan. chose KidsTLC, a program that provides innovative and successful psychiatric treatment, community outreach, behavioral health and autism treatment for kids and families; Dominick Carbone of the Carbone Auto Group in Utica, N.Y. chose the Community Foundation of Herkimer and Oneida Counties, which aims to improve life and livelihood in its communities; Bill McCurley of McCurley Integrity Dealerships in Tri-Cities, Wash. chose to support the NADA Charitable Foundation, which preserves and promotes private enterprise and personal freedom of mobility by supporting organizations involved in emergency medical care and higher education.
The 2013 TIME Dealer of the Year winner and finalists were chosen out of a select group of 57 dealers from across the United States at the 2013 NADA Convention and Expo in Orlando, Fla. in February. The TIME Dealer of the Year award is one of the automobile industry's most prestigious and highly coveted honors. Recipients are among the nation's most successful auto dealers who also demonstrate a long-standing commitment to community service. Visit allydealersheroes.com for more information on the 2013 TIME Dealer of the Year winner, finalists and nominees, as well as stories from dealers about their contributions to their local communities.
About Ally Financial
Ally Financial Inc. is a leading automotive financial services company powered by a top direct banking franchise. Ally's automotive services business offers a full suite of financing products and services, including new and used vehicle inventory and consumer financing, leasing, inventory insurance, commercial loans and vehicle remarketing services. Ally Bank, the company's direct banking subsidiary and member FDIC, offers an array of deposit products, including certificates of deposit, savings accounts, money market accounts, IRA deposit products and interest checking. Ally's Commercial Finance unit provides financing to middle-market companies across a broad range of industries.
Author: