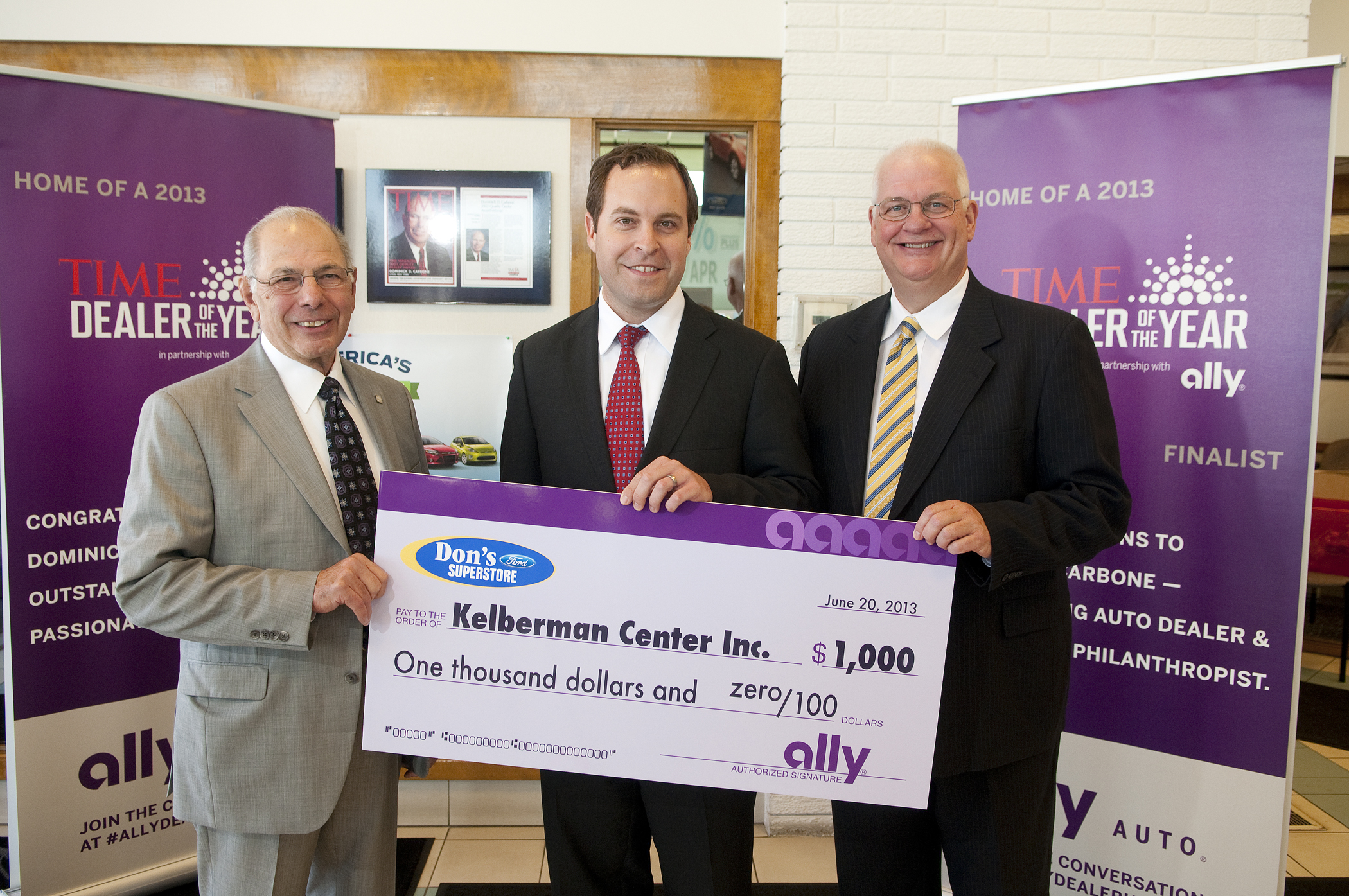 UTICA, N.Y. – Ally Financial recently honored Don Carbone of Carbone Auto Group as a 2013 TIME Dealer of the Year finalist and presented charitable grants to support his efforts in the central New York community.
Ally executives were on hand for the celebration at the dealership in Utica, N.Y., to present the grants on Carbone's behalf to The Community Foundation of Herkimer & Oneida Counties, an organization that funds local schools, health agencies, arts venues, libraries and other nonprofit organizations, and the Kelberman Center, a regional center in central New York dedicated to the advancement of people with autism spectrum disorders.
The $5,000 grant from Ally will contribute to The Community Foundation's 25/25 goal which seeks to help 25 percent of its community members earn a bachelor's degree by the year 2025.
Additionally, the $1,000 grant to the Kelberman Center will make it possible for more than 30 local children with autism spectrum disorders to attend its summer camp program.
"At Ally, we believe dealers like Don are heroes in their communities, and we are proud to support these important local causes," said Steve Walters, Ally's northeast regional vice president. "Ally has provided more than 100 grants to nonprofit organizations through our involvement with the TIME Dealer of the Year program. We have been inspired by dealers like Don whose generosity makes his community a better place."
Carbone was chosen as one of four finalists for the 2013 Time Dealer of the Year award from a select group of 57 dealers from across the country recognized for community involvement as well as business performance. Ally donated $10,000 to the winner's charity of choice, $5,000 to community causes chosen by each of the three finalists, and $1,000 on behalf of each of the 57 dealer nominees. The TIME Dealer of the Year award is one of the automobile industry's most prestigious and highly coveted honors. Recipients are among the nation's most successful auto dealers who also demonstrate a long-standing commitment to community service.
This event at Carbone Auto Group concludes the 2013 TIME Dealer of the Year celebrations. Nominees for the 2014 award will be announced in October, with the winner being named at the NADA Convention and Expo in New Orleans, La., in January. Visit allydealerheroes.com for more information on the 2013 TIME Dealer of the Year winner, finalists and nominees. The site also features tweets from Ally's hashtag campaign –#AllyDealerHeroes – which encourages dealers and consumers to tell their stories of community involvement.
About Ally Financial
Ally Financial Inc. is a leading automotive financial services company powered by a top direct banking franchise. Ally's automotive services business offers a full suite of financing products and services, including new and used vehicle inventory and consumer financing, leasing, inventory insurance, commercial loans and vehicle remarketing services. Ally Bank, the company's direct banking subsidiary and member FDIC, offers an array of deposit products, including certificates of deposit, savings accounts, money market accounts, IRA deposit products and interest checking. Ally's Commercial Finance unit provides financing to middle-market companies across a broad range of industries.
With approximately $166.2 billion in assets as of March 31, 2013, Ally operates as a bank holding company. For more information, visit the Ally media site at http://media.ally.com or follow Ally on Twitter: @Ally.
Author: