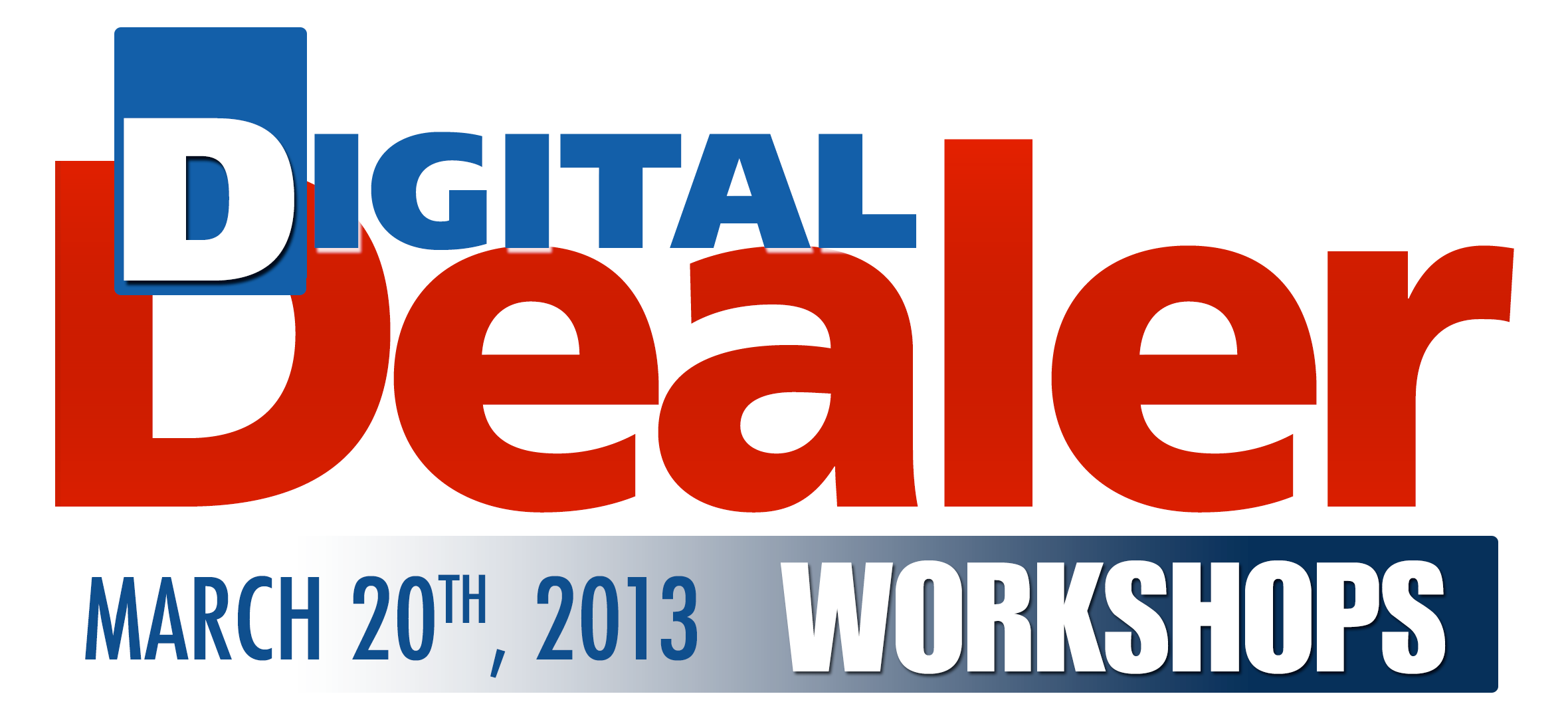 The Digital Dealer Conference & Exposition and the Washington State Auto Dealers Association will bring a one day intensive learning and networking workshop featuring sixteen cutting-edge educational sessions presented by the best in the business, to Seattle, WA on March 20, 2013.
The material will provide a 360 degree view of operating a successful dealership addressing everything dealers and managers need to know to sell and service more vehicles more profitably. Industry thought leaders will showcase advanced strategies in digital marketing, social media, new sales, pre-owned sales, data, analytics, reputation management, customer loyalty and fixed operations.
5 Steps to Maximize Your Presence in Today's Digital Marketplace
Tori Morandi, Autotrader.com
Dealership Facebook Marketing 2013
Proven strategies to attract visitors, engage genuine fans and generate leads
Kathi Kruse, Founder, Kruse Control Inc.
Taming the Big Data Beast to Drive More Internet Sales
Leverage your data to improve your business and grow your Internet sales
Vickie Gibbs, General Manager, Albright Digital
Advanced Website Conversion
How to Leverage AB Testing & Neuroscience
Amir Amirezvani, Executive Vice President and Founder, DealerOn
The Myths About Pay Plans and Goal Setting
Making pay plans and goal setting work
Jeff Cowan, President and Owner, ProTalk Inc.
In addition attendees will be able to meet directly with a select group of leading technology providers like DealerOn, Dataium, and Digital Air Strike presenting the latest dealership solutions.
Attending dealers and managers also will benefit from networking with attendees from across Washington State and the Pacific Northwest.
Visit seattle.digitaldealerworshops.com to learn more about this unique event and to register.
Learn How to Improve Your Dealership at the Digital Dealer Workshops Seattle
In partnership with the Washington State Auto Dealers Association (WSADA), the Digital Dealer Conference & Exposition will bring highlights of the industry's ultimate automotive digital strategy conference to the DoubleTree by Hilton Seattle Airport, WA on Wednesday, March 20, 2013.
Registration for the Digital Dealer Workshops Seattle is now open by visiting www.Seattle.DigitalDealerWorkshops.com.
"Attending the 13th Digital Dealer was a great way for me and our team to pick up new ideas and truly see how the digital space is changing our business. WSADA partnering with the Digital Dealer team is a great idea that will prove extremely valuable for those who attend" states Ryan Sawyer, VP/GM Kia of Puyallup, WA.
To learn more about the benefits of attending the Digital Dealer Workshops Seattle visit: www.Seattle.DigitalDealerWorkshops.com.
The one day event features a limited number of exclusive sponsorship opportunities to interact with the dealership audience. For more information contact Andy Tompkins at andy.tompkins@dealer-communications.com.
For speaking opportunities, contact Jim Apistolas at japistolas@dealercommnications.com.
Author: