The following commentary is produced monthly by Tom Kontos, Executive Vice-President, ADESA Analytical Services. ADESA is a leading provider of wholesale used vehicle auctions and ancillary remarketing services. As part of the KAR Auction Services family, ADESA works in collaboration with its sister company, Insurance Auto Auctions a leading salvage auto auction company, to provide insights, trends and highlights of the entire automotive auction industry.
October 2012 Kontos Kommentary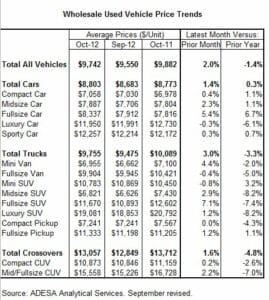 Summary
Average wholesale used vehicle prices reversed the general softening they have shown since Spring and rose significantly for the month, and though they remain down year-over-year, this was less so than in previous months.  When looked at on a weekly basis during the month of October, prices were actually declining during the first half of the month, but more than made up for lost ground during the second half of the month.  This indicates that dealers may have been responding to auction closings and anticipating supply shortages resulting from Superstorm Sandy.  They therefore may have been searching and bidding more aggressively in-lane and online for vehicles as the storm approached and hit the east coast at the end of the month.  This strong dealer demand was evident despite weakening retail used vehicle sales (though still stronger than last year) as stores closed and consumers braced themselves for the storm's impact.
In reality, the loss of used vehicle supply from vehicles already in operation on the roads and streets in the affected areas is much greater than any loss of vehicles at dealer lots and auctions.  As a result, replacement demand for new and used vehicles is likely to go up for a period of time, particularly in the Northeast corridor and especially in New Jersey.  This will tend to support wholesale used vehicle values at a time when prices were anticipated to soften seasonally and cyclically between now and year-end.  Nevertheless, these impacts should be limited in terms of severity, geography and timeframe in part because of the efficiency of the vehicle remarketing process itself.
Details
According to ADESA Analytical Services' monthly analysis of Wholesale Used Vehicle Prices by Vehicle Model Class1, wholesale used vehicle prices in October averaged $9,742 – up 2.0% compared to September and down a modest 1.4% relative to October 2011.  Prices for trucks were up more than those for crossovers and cars, as they have already taken a hit from higher gas prices over the past few years.  The OPENLANE US Market Index, which is based on data from the ADESA OPENLANE online marketplace, also rose by 2.0% month-over-month.
Prices for used vehicles remarketed by manufacturers fell by 0.2% month-over-month in October, but were up 2.2% year-over-year, indicating good absorption of off-rental program vehicles.  Fleet/lease consignors experienced a 2.6% decrease in October, leaving prices down 0.7% year-over-year.  Dealer consignors saw a 0.5% average price increase versus September, resulting in prices being down 0.9% versus October 2011.
Based on data from CNW Marketing/Research, retail used vehicle sales in October were down 11.7% year-over-year for franchised dealers and 14.0% for independent dealers, although on a year-over-year basis volumes were over 17% higher for both groups.  October sales of certified used vehicles were down 5.3% month-over-month but up by 5.0% year-over-year based on data from Autodata.
1The analysis is based on nearly six million annual sales transactions from over 150 of the largest U.S. wholesale auto auctions, including those of ADESA as well as other auction companies. ADESA Analytical Services segregates these transactions to study trends by vehicle model class.
The views and analysis provided herein relate to the vehicle remarketing industry as a whole and may not relate directly to KAR Auction Services, Inc. The views and analysis are not the views of KAR Auction Services, its management or its subsidiaries; and their accuracy is not warranted. The statements contained in this report and statements that the company may make orally in connection with this report that are not historical facts are forward-looking statements. Words such as "should," "may," "will," "anticipates," "expects," "intends," "plans," "believes," "seeks," "estimates," "bode", "promises", "likely to" and similar expressions identify forward-looking statements. Forward-looking statements are subject to risks and uncertainties that could cause actual results to differ materially from the results projected, expressed or implied by the forward-looking statements. Factors that could cause or contribute to such differences include those matters disclosed in the company's Securities and Exchange Commission filings. The company does not undertake any obligation to update any forward-looking statements.
Author: