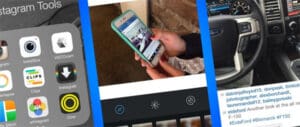 8 Apps to Help Your Dealership Dominate Instagram | Automotive Marketing Tips, from 9Clouds Automotive Marketing.
You have your dealership's Instagram account up and running. You have a game plan. Maybe even a few likeable posts. But now it's time to take it to the next level and make Instagram an integral part of your dealership's long-term social media strategy. You're going to need a few more tools in your pocket.
Through more than 10 years of combined experience using Instagram, and after researching social media trends in the automotive industry, our team compiled this roundup of 8 useful apps to help your dealership get more out of the Instagram platform. If your favorite Instagram-related app isn't on this list, let us know in the comments!
1. VSCO CAM (FREE)
If you're ever feeling limited by the filters or editing features in the native Instagram app, check out VSCO Cam. It offers more fine-tuned editing functions and – in our opinion – more tasteful preset filters than Instagram itself.
Click here to read the entire article >>
---
Photo Credit:
9 Clouds
Author: