6 Touchpoints for Service Customers, from Auto Dealer Monthly.
Dealers are earning loyal service customers by focusing on providing a positive experience in every phase of the transaction.
Last year, I introduced the Six Touchpoints of Service, a list I created from all the best practices I've seen among the dealers I work with. Even the best service marketing programs can only drive traffic to the store once if the customer's experience is poor. A fantastic internal operation serves as a multiplier to the store's marketing efforts by bringing clients back in the door for all their service needs, increasing the average repair order amount and attracting additional business through client advocacy. Let's take a closer look at each touchpoint and see where we can improve.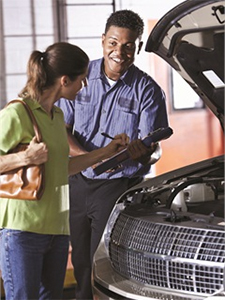 1. The Pre-Shopping Experience
The name of this game is client acquisition. Whether it starts with a call to the sales or service teams, foot traffic to the showroom or an online form, your goal is to satisfy every client and create relationships. Many dealers lack this focus and dedication to service retention and client satisfaction. They rely too heavily on profits from the front end. Volume is critical, and a repeat client is far more valuable than any one-time deal.
Another tool many dealers fail to utilize is a dedicated business development center. At one of my client's stores, 100% of all website queries and 60% to 65% of all calls are answered directly by a full-time service BDC manager. That team currently boasts an average response time of less than five minutes.
Another key to ensuring an above-average pre-shopping experience is to focus on providing information. Dealers fear that giving away too much information or pricing, especially online, will dissuade clients from booking a service appointment. I believe the opposite is true. Take the time to be aware of what your competitors are doing. Offer better prices or incentives such as coupons or a list of reasons why you provide a more comprehensive service for the price.
Like car buyers, today's service customers are researching multiple options before they leave home. Again, your goal is client acquisition, so give them all the information they need to make the right choice.
Click here to read the entire article >>
Author: